Epoch Times: Toronto Audience Raves about Divine Performing Arts "Spectacular"
September 25, 2008
Torontonians feasted their eyes and ears on a one-of-a-kind show Wednesday night as the Mid-Autumn Spectacular opened at the John Bassett Theatre in Toronto's downtown, performed by New York-based Divine Performing Arts.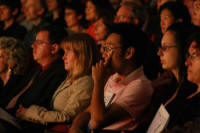 Audience enjoys the Mid-Autumn Spectacular in Toronto's John Bassett Theatre
"Excellent," exclaimed J. Edward Shaw, a retired Emmy Award-winning television director. "The costumes are wonderful and not overdone . . . it's regrettable that the show can't be seen in China," he said.
Divine Performing Arts presents a renaissance of traditional Chinese culture, much of which has been repressed over years of Communist rule. The show tours exclusively outside of China.
Shaw singled out tenor Hong Ming, a gold-medalist at this year's Second Annual International Vocal Competition hosted by NTDTV, describing him as "excellent, wonderful."
"We should find two more and call them the Chinese tenors," he said.
Shaw added that he felt the show was designed to be "pleasant for the Westerner to enjoy."
Others agreed.
"I think the show is absolutely wonderful. It's very touching to my soul and to my heart," explained Nelly Zoric, a senior account manager at RBC.
"What touched me was the culture, the tradition, the belief of good and evil," she said. "I'm going to cry," Zoric said, wiping a tear from her eye. "That one person can stand up and make a difference, that truth will prevail, that goodness will prevail -- that's a beautiful, beautiful thing."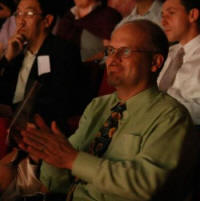 Audience members enjoy the Mid-Autumn Spectacular in Toronto's John Bassett Theatre
"I just hope that it spreads to more people," she concluded, adding she would "come every time for something so magnificent."
Other patrons interviewed by The Epoch Times also sang the praises of the unique Chinese cultural show.
"The show was excellent," said Nico Meijer, a senior vice-president with BMO. "Very very good."
"I haven't seen anything like it before," Meijer said at the intermission, adding that, "If the standard is as high as the first half of the show, then it should be very good."
The show's costumes caught the eye of Joyce Huang, an ethnic Chinese and fashion designer who came to see the DPA show for the first time.
"The design level is high, beyond my imagination. I can see the designers used lots of care," she said.
"The costume colors are very bright. I was surprised the performance costume design is very bright, with lots of care, and care to the designs."
Ming Gu, a Chinese journalist with Voice of America called the music, dancing and performances all "excellent."
"And there is a spirit inside, that Falun Gong spirit inside, that is the main point they want to show us, they want to tell the people, that is why the performance is so successful I think."
Ricky Veerappan, a staff sergeant with York Regional Police, said the show was a wonderful opportunity to learn about Chinese culture.
"I never knew that much about Chinese culture but tonight was a perfect opportunity to learn about the history and all the glamor and the beauty itself. I think it's a wonderful, wonderful show."
"I've never seen a show like this and I'm truly impressed with the graphics, the choreography is beautiful, the music, the soprano, the baritone - it's a wow, a very holistic view of Chinese culture in my mind, and I think it's wonderful."
Veerappan said he was also particularly moved by "The Risen Lotus Flower," which he described as "very powerful and particularly moving."
"I think it's special because you have people trying to celebrate a very particular part of their culture and from what I see in the performance it is being suppressed."
"I will definitely come next year and bring my family and friends as well," he said.
The Epoch Times is proud to sponsor the Mid-Autumn Spectacular, performed by Divine Performing Arts. The show runs until Sunday, Sept. 28 at the John Bassett Theatre in Toronto.
The Mid-Autumn Festival is one of China's most ancient and cherished holidays. The Spectacular expresses Chinese classical dance and showcases authentic traditional Chinese culture. Through background scenery, costumes, and choreography, the Spectacular expresses truthfulness, compassion, and pure beauty. China's history comes to life in this gorgeous performance that is entertaining, inspiring, and uplifting. The content of all programs is presented in both Chinese and English language. For more info, visit DivineShows.com.