Canada: Divine Land Marching Band Welcomed in Ottawa Caribbean Festival (Photos)
(Clearwisdom.net) The International Caribe-Expo (Ottawa Caribbean Festival) was held in Ottawa, Canada on August 10-17, 2008. The Falun Dafa Divine Land Marching Band, made up of Falun Gong practitioners from Ottawa and Montreal, was invited to join the festival's parade for the first time.
Spectators enjoy the performance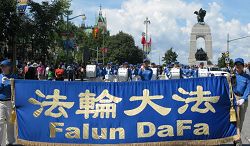 The Divine Land Marching Band performs in the parade
The parade started off from Bayview and proceeded along River Parkway to Parliament Hill. The parade ended in front of City Hall and attracted the attention of residents and tourists alike.
Hafiz Ibrahim from a sponsoring company said that the Ottawa Caribbean Festival has had many large-scale activities in the past 14 years. He said that Canada is a leading country in multi-cultural and human rights events. He believes the intention of the festival host in inviting the Divine Land Marching Band is to emphasize multi-culturalism.
Tens of thousands of tourists in downtown Ottawa enjoyed the rich and colorful parade. Mr. Vape enjoyed the band's performance, "The Divine Land Marching Band's performance is great and the most organized."
Dale Thornington was impressed, "I know Falun Gong practitioners. They are the people who protest in front of the Chinese Embassy. I support them."
Correh and her friend came from Montreal to watch the parade. Carreh thought the Divine Land Marching Band was terrific. She explained what Falun Gong is to her friend. Her friend was happy to see that the flyer had contact information for Falun Gong practitioners in Ottawa. She wanted to call and learn more about Falun Gong after she returned.
The festival celebrates the Caribbean culture. People dressed in their folk attire and dance to Caribbean music.