Taitung, Taiwan: Candlelight Vigil in Memory of Practitioners Who Were Tortured to Death (Photos)
July 27, 2008 | By a practitioner from Taitung
(Clearwisdom.net) On July 20, Falun Gong practitioners from Taitung, Taiwan, held a candlelight vigil in Taitung City in memory of those who were persecuted to death during the nine-year-long persecution against Falun Gong in China. Practitioners called for people to pay attention to the persecution and extended their appreciated for people's support.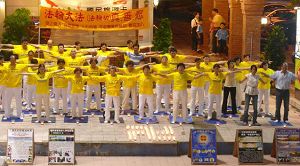 Group exercise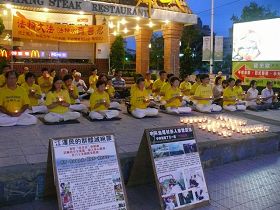 The candlelight vigil
Some local citizens and practitioners' family members also joined the vigil. The event drew many spectators as well.
Practitioners noted their appreciated for the support they have received so far. At the beginning of 2008, the Coalition to Investigate the Persecution of Falun Gong initiated a petition drive calling for help to end the persecution. As of July 20, more than 1,150,000 people in 127 countries have signed on the petition. More than 500 thousand Taiwanese, including 18 thousand in Taitung alone, signed the petition.
Many local citizens came to the candlelight vigil. Some of them came because they have witnessed the positive changes in their family members; some of them came to support practitioners' human rights and to condemn the brutality of the Chinese Communist Party.
Ms. Lin, a practitioner, said that many tourists from Mainland China have come to Taiwan recently. Falun Gong practitioners welcome them and hope that when they are enjoying the scenery and tourist destinations, they will also learn the truth about Falun Gong, which is not easy to obtain in China.
Ms. Lin said she has clarified the truth about Falun Gong to Chinese tourists. Some of them thanked her and some of them said that they would think about it. She said everybody has the right to know the truth, and she believes that the Chinese tourists would be glad to know it.
Practitioners held anti-persecution activities all over Taiwan on July 20. More and more people learned the truth and stepped forward to support Falun Gong through these activities.