(Clearwisdom.net)
The signal for New Tang Dynasty Television (NTDTV), an independent Chinese media, went down in China on June 17 due to "technical difficulties" with the W5 satellite operated by Eutelsat Communications. Carrie Hung, the spokesperson for NTDTV, said on June 28 that Eutelsat has yet to give NTDTV any formal explanation.
(Clearwisdom.net)
On the occasion of the annual Glasgow International Jazz Festival, Falun Gong practitioners in Scotland held an activity to introduce Falun Gong and expose the Chinese Communist Party (CCP)'s persecution of Falun Gong in China.
(Clearwisdom.net) In the run up to the Olympic Games to be held this summer, the nations of the world are faced with the challenging question of how the Games can support the human rights situation in China. The Olympic Charter states that the goal of the Olympics is to place sports at the service of the harmonious development of man, with a view to promoting a peaceful society concerned with the preservation of human dignity. The Olympic committee's justification for allotting the Peoples' Republic of China the 2008 Summer Olympics was based on the conviction that doing so would be a way to press for positive change in the country. The decision was therefore made on the precondition that human rights would finally be respected in China.
~ April 25 Events ~
~ Deaths ~
~ Accounts of Persecution ~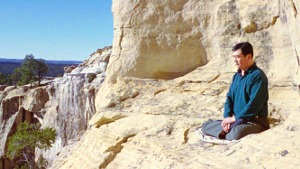 Master Li quietly watching the world from amidst the mountains after leaving New York following July 20th, 1999. (Published January 19, 2000)