Ms. Xiao Sumin Tortured to Death in Shandong Province (Photo)
(Clearwisdom.net) Ms. Xiao Sumin, 46, was a practitioner from Pingdu City, Shandong Province. On May 30, 2008, she was illegally arrested and detained. Within the short period of twenty-one days, the detention guards tortured her to death. Her body was quickly cremated on June 21, 2008 and her ashes taken to her home the same day.
The CCP is conducting a new round of persecution against Falun Gong with the excuse of trying to "successfully hold the Olympics." But what the CCP is actually doing is wantonly murdering practitioners, like Ms. Xiao, who just want to follow Truthfulness-Compassion-Forbearance in their lives. Ms. Xiao left behind a young daughter.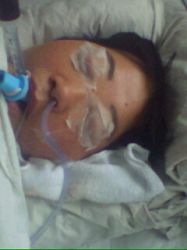 Ms. Xiao Sumin in the hospital emergency room
Ms. Xiao Sumin lived in the Vegetable Oil Factory Family Housing. After the persecution began on July 20, 1999, she had been illegally followed, monitored, and harassed. Her employer even moved her to the most dirty and labor intensive section of the factory.
On August 6, 2001, while Ms. Xiao was out shopping in a store, Domestic Security Officer Shi Weibing of the Pingdu City Police Department forced Ms. Xiao to attend a brainwashing session held in the Wangcun Area of Zibo City. She was tortured there for one month.
On August 7, 2007, Guxian Town Police Station deputy director Ma Dawei (male) and 4 other officers arrested Ms. Xiao and took away her motorcycle, two cell phones, and 300 yuan in cash. They then detained her at the police station for 24 hours, while two police officers named Liu Jie (male) and Wang (male) took turns slapping her face, as well as punching and kicking her. They grabbed her by the hair and slammed her head against the wall.
On the afternoon of August 8, 2007, police officers ransacked Ms. Xiao's home and then illegally transferred her to the Pingdu City Detention Center.
When her family visited her on August 12, 2007, the detention center administration extorted 30,000 yuan from them with the promise that Ms. Xiao would be able to return home after staying in detention for a total of 15 days.
However, the guards in the detention center planned to send her to a forced labor camp. When they tried to get her to sign some paperwork, she refused and went on a hunger strike, protesting her imprisonment.
On the 8th day of her hunger strike the guards asked two doctors from the Pingdu City Mental Hospital to come to the detention center to force-feed her. They had more than a dozen male prisoners restrain Ms. Xiao while the doctors tried to force-feed her.
The next day, when Dai Jinzhong (male), the guard on duty that day, saw that Ms. Xiao didn't awaken from her sleep, he called for a doctor. When the doctor examined her, he found her pulse was very weak. The detention guards had no choice but to let her go home that evening.
On the morning of April 30, 2008, Pingdu City Grain Bureau official Chen Guangqi (male) harassed Ms. Xiao at her home. On May 30, 2008, Ms. Xiao and another practitioner Ms. Sun Shujie were arrested.
After enduring more than two weeks of non-stop torture, Ms. Xiao's life was in eminent danger. Guards were forced to take her to the emergency room at the Haici Hospital in Qingdao City, where she was immediately put on oxygen. However, due to the severe torture she had previously suffered, she died within 3 weeks.
Domestic Security Division of Pingdu City Police Department: 86-532-88319300
Wang Xinyu (female): Pingdu City 610 Office chief: 86-1370-8973862 (Cell), 86-532-87007791
Dai Yugang (male), Pingdu City 610 Office chief: 86-532-87309201
Wang Hai (male), Pingdu City Detention Center director
Dai Jinzhong (male), detention center guard
Shi Weibing (male), and Zhao Hongwu (male), Domestic Security Division leaders
Shi Huaguang (male), Pingdu City 610 Office agent
Zhang Hui (male) and Liu Jie (male), 610 Office agents and Domestic Security Division leaders