Australia Police: Attackers Against Falun Gong Will be Investigated, Charged and Deported (Photos)
June 27, 2008 | By Luo Na
(Clearwisdom.net) After pro-CCP mobs attacked Falun Gong practitioners in Flushing, New York, Australian federal and New South Wales police departments met with some Falun Gong practitioner representatives. After learning about the violence in Flushing and the increasing harassment and assault of Falun Gong practitioners in Australia, the police clearly expressed that they would pay close attention to the situation, and that the police would have responsibility to investigate the cases. Those who attack Falun Gong practitioners will be investigated, charged or deported.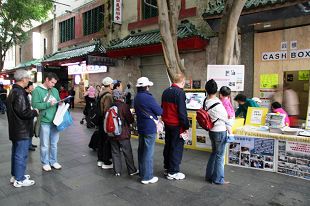 Falun Dafa truth-clarification site in Sydney present everyday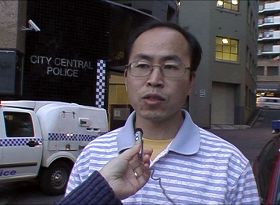 Practitioner Charles Ni was attacked while distributing Chinese newspapers
Ms. Lucy Zhao, head of the Falun Dafa Association in New South Wales, said that those who watched the video footage of the Flushing incident from NTDTV were surprised, including Members of Parliament and police officers. After watching the video, they came to know the severity of the violent assaults and showed concern regarding the Chinese Communist Party (CCP)'s extension of hatred and violence to free countries. The Australian police departments at the federal and local level expressed clearly that similar incidents would not be tolerated in Australia.
Ms. Zhao said that the harassment and assaulting of practitioners in Australia have increased recently. For example, practitioner Charles Ni was attacked while distributing a Chinese newspaper. Mr. Ni distributed a newspaper to a Chinese student in front of a language school. That student kicked Mr. Ni twice and ran into the campus. Later, when the student tried to deny the incident, the school officials showed video evidence of the incident.
Police officers expressed their hope that Falun Gong practitioners would report incidents to police in a timely fashion when facing similar attacks or harassment so that they can take action. Police officers also recommended that the evidence is provided to police before the media reports on it. The police also said that if there is direct evidence such as the telephone conversation record from Peng Keyu, they can put forward formal requests to expel Chinese consulate officials, though they might have diplomatic immunity.
Police are investigating cases of recent assaults against Falun Gong practitioners in Australia.