Voices from Lucerne, Switzerland: The Persecution Should Not Have Happened (Photo)
June 21, 2008 | By a practitioner in Switzerland
(Clearwisdom.net) On June 14, 2008, a Falun Gong information booth was set up on the square near the railway station in Lucerne, a famous tourist city in Switzerland. Many people stopped to look at the pictures on the display panels. The photos showed examples of the persecution of Falun Gong by the Chinese Communist Party (CCP) and the Falun Gong exercises. Observers asked for more detailed information. Many passersby also signed the petition forms calling for an end to the CCP persecution of good people who believe in "Truthfulness-Compassion- Tolerance."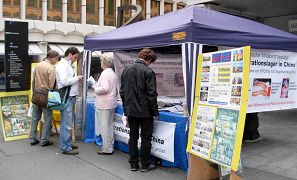 Falun Gong has been spread throughout the world, but it is being cruelly persecuted by the CCP. The display panels attracted the attention of passersby that came to read and hear the facts.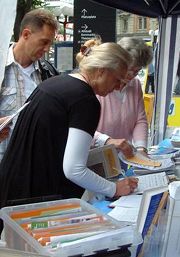 Ms. Tina, whose family members were killed in the Nazi concentration camps, hopes that the persecution in China will end soon and the tragedy of so many innocent people being killed will not be repeated.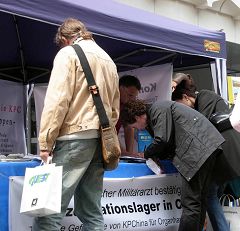 Passersby signed their names on the petition forms to help stop the persecution of Falun Gong.
Since she was an infant, four-year-old Yulian has joined in different Information Day activities with her father, mother, and sister. She was very happy to distribute the leaflets raising awareness about the persecution to as many passersby as possible.
"All this should have been stopped before so many people were killed."
Ms. Tina is from Nuremberg. After signing the petition form, she said, "I signed my name because I think we should voice our support for those who are subjected to discrimination, persecution, and mistreatment. We should support them and we should do something from the outside." The words written on the banner "Tens of Thousands of People Have Been Killed by the CCP's Live Organ Removal" touched her deeply because some of her family members were tortured to death in the German concentration camps during World War II. She said, "At that time, no one was aware of the concentration camps, but, in fact, it should have been stopped before so many people were killed."
In the beginning, she thought that, based on the experience of the Nazi concentration camps, some changes could have only been made at a cost of millions of lives. But when she learned that more and more Chinese people have withdrawn from the CCP after understanding its evil nature and that more than 38 million Chinese people have already renounced the CCP and its affiliated organizations, she said with delight, "That is very great progress. We hope to see faster progress like this and we should not wait for the situation to change and more people are killed. I wish the Chinese people good luck."
"This persecution should not have happened."
Claudia is a university student. Having talked with the Falun Gong practitioners, she signed her name at once on the petition calling for an end to the persecution and said, "I think the CCP is very bad to treat people like this. I feel it is unreasonable for people to be persecuted and detained just for their beliefs." She said that she had the newspapers about Falun Gong and would share the information with her friends. She said she would also visit the Falun Gong websites for more information.
Stefan was on duty for security work. He said, "Because China is such a big market, some countries dare not say anything against China. The same is true for Switzerland in some respects. This is very bad and should be changed. This change might well start in Switzerland."
A female teacher had seen the Falun Gong information booth previously in Swan Square. She said, "I am signing my name because I think cruelly torturing and persecuting people for their beliefs should be stopped. In today's society, things of this kind should not happen. This may be insignificant, but perhaps my signature might be of some help." She hoped China would really show respect for human rights.
Having talked with a practitioner, Magie also signed her name to help stop the persecution. Learning that her comments would be passed on to Chinese readers, she said after careful consideration, "I think this persecution should not have happened. I think our politicians should offer more help. I have signed my name because I feel this might be of some help."
"I want to learn and practice Falun Gong."
While demonstrating the Falun Gong exercises with other practitioners, Ingeborg noticed a man in his 50s or 60s doing the exercises with them. At first she thought he was a new practitioner because of his correct movements. It was only later that he was found to be a passerby who had joined in the exercise demonstration because he wanted to learn. After talking with practitioners, the man said that he would go to the local practice site. He wrote down the time and place of the local site. Having seen the book on Falun Gong displayed at the information booth, he said with delight that he had seen the book before. As the mother tongue of the man was Turkish, the practitioner promised that he would print out a copy of the book in Turkish from the website and get it to him at the practice site.
Ulliel is an artist engaged in interior decoration. He not only talked with the practitioners for a long time and signed his name on the petition but also bought two books, Falun Gong and Zhuan Falun. He said, "I want to learn more about Falun Gong. I have heard about it before. This information booth has made me more interested in Falun Gong." He said that the CCP persecution of Falun Gong was "unacceptable and violated human rights. People should condemn it."
A local practitioner, Andreas, said that new practitioners very often participated regularly in group practice on Tuesday and Thursday evenings and Sunday mornings. Several people said that they would go to the local practice site next time to learn and practice Falun Gong.