Malaysia: Statement in Local Chinese Newspaper Counters CCP's False Allegations of Falun Gong Interfering with Earthquake Disaster Relief (Photo)
(Clearwisdom.net) Overseas Chinese Daily News in the State of Sabah, Malaysia published a statement several days ago clarifying the truth regarding the false allegations of Falun Gong practitioners "interfering with Chinese collecting donations for Sichuan earthquake relief" in Flushing, New York. The allegations, first made by China's state-run propaganda machine, have been carried in Chinese language television and newspaper reports around the world.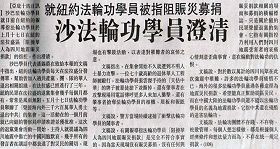 Overseas Chinese Daily News in Sabah, Malaysia, published a statement clarifying a false allegation
The report said that Falun Gong practitioners distribute flyers in Flushing every day and help Chinese people renounce their membership in the Communist Party, Youth League and Young Pioneers. They hold a rally in support of quitting the Chinese Communist Party (CCP) almost every month.
The report pointed out, "On May 17, Falun Gong practitioners held a rally 'in support of the 36 million brave Chinese people inside and outside of China quitting the CCP organizations'. They applied for a permit for the event and were approved by the New York Police Department a month earlier." At the beginning of the rally, "They stood in silent tribute to the Sichuan earthquake victims, and almost all speakers expressed their concern for the disaster victims in their speeches."
The report said that the rally was disrupted with violent assaults. A 70-year-old practitioner was beaten, while other practitioners had personal property damaged, and display boards destroyed. The police arrested several of the assailants.
The report continued that the allegation spread by CCP-controlled media that Falun Gong practitioners interfered with disaster relief was untrue. In fact, there were no disaster relief activities at the rally site, nor were there banners or materials against disaster relief efforts. The rally in support of quitting the CCP was the only activity at the time.
The report also pointed out that regarding the fact that the Sichuan earthquake claimed tens of thousands of lives, Falun Gong practitioners were in deep sorrow, and many overseas Falun Gong practitioners donated money through various channels, hoping to help disaster victims. "But Falun Gong practitioners in China cannot donate money for the earthquake relief in the name of Falun Gong practitioners, because the CCP is still brutally persecuting Falun Gong."
Days ago, being unaware of the facts, the Overseas Chinese Daily News reprinted an untrue report accusing Falun Gong practitioners of hindering disaster relief. Falun Gong practitioners in Sabah Pan Xijue published a statement to the Overseas Chinese Daily News to clarify the whole real situation.
Practitioners also protested this latest CCP propaganda ploy at a gathering in front of the Chinese Embassy to Malaysia. The protest drew several Chinese media outlets. 8TV, one of the major television stations in Malaysia, broadcast the protest during its prime time Chinese-language news at 8:00p.m..