Finland: "Good Job!" (Photos)
(Clearwisdom.net) On Saturday, June 7, 2008, Falun Gong practitioners in Helsinki held an activity on Mannerheiminti Avenue in the city center to promote Falun Gong and call on people to help stop the Chinese Communist Party's (CCP) nine-year brutal persecution of Falun Gong practitioners in China. Practitioners displayed banners worded "Falun Dafa is Good," and "Immediately Stop the Persecution of Falun Gong," and set up posters introducing Falun Gong. They also prepared petition forms to call for an end to the persecution, and provided Falun Gong truth-clarification materials in various languages.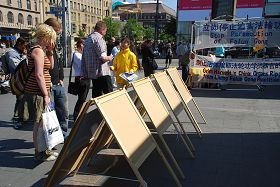 Practitioners in Helsinki displayed banners and set up posters on Mannerheiminti Avenue calling for an end to the CCP's persecution of Falun Gong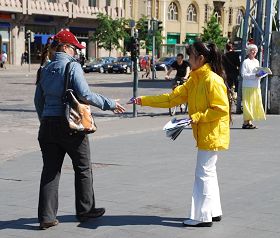 Please learn the facts about Falun Gong
Taking advantage of a sunny summer weekend, a favorite time of the year in Finland, everyone was hurrying about their business. Additionally, the annual Samba parade was also taking place on the same day. Even so, as people passed by the Falun Gong display, many slowed down to accept fliers, talk to practitioners, and sign the petition. After talking to a practitioner, one gentleman praised their efforts, saying, "Good job!"