How the New York Chinese Consulate Spends Money In the Face of China's Earthquake Disaster (Photos)
June 10, 2008 | By Zheng Wenguang
(Clearwisdom.net) While kind-hearted people around the world donate money to help with relief work for the earthquake aftermath in China's Sichuan Province, let us take a look at how officials at the Chinese Consulate in New York spent their budget.
Chinese Consulate hires thugs to instigate violent assaults in Flushing. Who paid for this?
Thugs hired by Chinese consular authorities attack Falun Gong practitioner Yu Wenzhong (wearing gray jacket)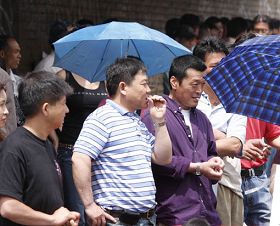 Others who participated in the attack on Falun Gong practitioners
The Epoch Times reported that around 10:00 a.m. on May 31, 2008, as a rally in support of Chinese people quitting the communist party was about to begin, a middle-aged man walked to the sidewalk across the road from the Flushing Public Library, while the Divine Land Marching Band readied itself in front. He wore a suit and a baseball cap and held two envelopes in his hand. As soon as he appeared, groups of two and three men walked over to him, and he started to hand out money. In addition to the groups of Chinese men, there were also three Latin and African American men. As the man distributed money, he was overheard giving instructions to "charge to the front." The men who had been paid were later observed disrupting the parade and its participants.
When asked, some of the men admitted to being paid $50 per day, and others said they were paid $90 per day. The reason for the difference in amounts was unclear - perhaps middlemen pocketed the difference, or there could have been other reasons. Some said shamelessly, "Nowadays, who would want to do anything except for money? As long as we get paid we don't care about principles or beliefs." Some even went up to Falun Gong practitioners and said, "You give me a hundred dollars, and I will stand on your side and curse the CCP!"
The following photos show how a Chinese Communist Party (CCP) official on the street in Flushing paid the thugs.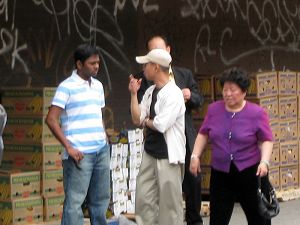 "Don't worry. The man who pays us will be here soon." (Photo provided by the reporter)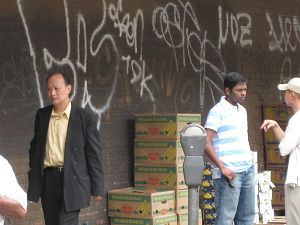 "He is here at last. Let's go over." (Photo provided by the reporter)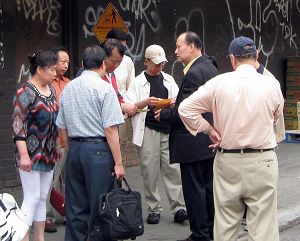 "Have to make sure I'm paid the right amount." (Photo provided by the reporter)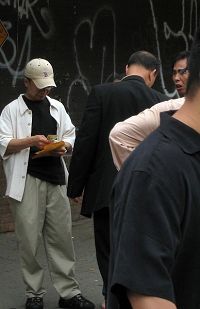 "Count it again." (Photo provided by the reporter)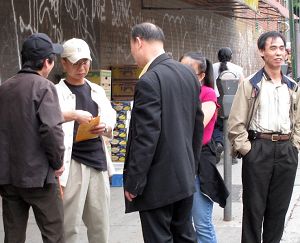 "This is for me. I'll put it away." (Photo provided by the reporter)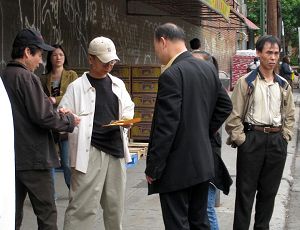 "This is for you." (Photo provided by the reporter)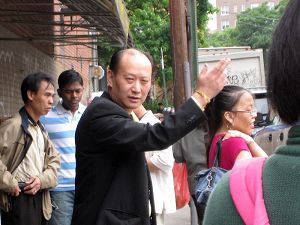 "Go that way." (Photo provided by the reporter)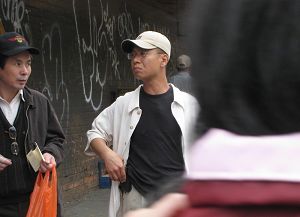 "Now that we've been paid, we've got to carry on as hoodlums." (Photo provided by the reporter)
Hired thugs first instigated attacks on Falun Gong practitioners on May 21, 2008. From one to a few hundred thugs were present every day, according to Falun Gong practitioners on the scene. The thugs harassed practitioners at their Quit the CCP Service Center, during the parade, and while walking on the street. Some thugs were clearly hired from somewhere else [out of town].
Chinese Consul-General Peng Keyu admitted to an undercover reporter in a recorded telephone conversation that agents at the Chinese Consulate had instigated the assaults and harassments. The recorded telephone conversation provides undeniable evidence. If the CCP pays $90 for each thug every day, and if a calculation is made on the basis of an average of 500 people per day, then the CCP would have paid $450,000 in ten days. Furthermore, what happened in Flushing was not an isolated incident. Similar attacks were also plotted in Australia and Japan.
China is suffering from a national disaster, and yet, instead of spending the money on earthquake relief work, the CCP regime spends huge sums to hire thugs to suppress dissent outside China.
Where does the money come from? Does it come from the normal funds the Chinese government allocates to its overseas embassies and consulates? If so, it serves as evidence that the CCP regime indeed allocates specific funds for the persecution of Falun Gong outside China. If not, it gives rise to another serious concern. Have earthquake relief donations been misappropriated for such a travesty? Why is it that as soon as the Chinese Consulate received millions of dollars in donations, it started to frenziedly hire overseas Chinese who are close to the CCP, transport them to Flushing by the bus load, and pay them handsomely for causing trouble? I suggest that all the people who have made donations to the Chinese Consulate in NY challenge the consulate and ask them to give a transparent account of what has happened to their donations.
CCP media praise thugs beating practitioners as "patriots"
Let us take a look at what the CCP media said about what they praise as "patriots." Falun Gong practitioner Mr. Zhang told the Epoch Times reporter on May 31 that those who were close to the CCP told him, "We don't care about beliefs. It is pretty hard to work in the USA. If you Falun Gong give us more money than them [the Chinese Consulate], then we'll immediately stand on your side and yell out for you." Many thugs admitted that they had come "for the money." One of them said, "Nowadays, who would have come to do this if not paid money?"
The thugs were hired to assault Falun Gong practitioners. They did not come for earthquake-relief fund-raising efforts. These people were willing to sell their conscience for a few dollars. They came to cause trouble [as ordered], to make money from the misery of those affected by the national disaster in China.New York police have arrested and are investigating a number of trouble-makers. More and more evidence will be made public, and will demonstrate fully that the CCP is the biggest threat to China and the Chinese people.