Taiwan: Primary School Students Sign Petition Opposing the Persecution (Photos)
May 06, 2008 | By a Falun Dafa practitioner in Taiwan
(Clearwisdom.net) Taiwan's Yong Kang Primary School held a sports meet and garden fair to celebrate the school's 100th anniversary on April 26, 2008. The usually serene and peaceful campus was filled with joyous people from the community. Among numerous booths in the garden fair, many people and young students focused their attention on the booth set up by volunteers for the CIPFG (Coalition to Investigate the Persecution of Falun Gong). The volunteers told people about the persecution of innocent practitioners happening in China. They asked everyone to pay attention to the situation of Falun Gong practitioners in China and they collected signatures calling for people with a sense of justice to condemn the Chinese Communist Party's (CCP) atrocities.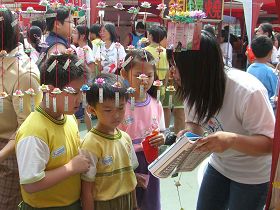 Volunteers tell people about the ongoing persecution of practitioners in China and ask that everyone work together to stop the persecution
After listening to the volunteers' explanation, many people and young students signed the petition to support the anti-persecution efforts. Some children saw the photos depicting the methods of torture used on the practitioners and were sympathetic. When they learned that their signatures could help the persecuted practitioners, they immediately signed the petition.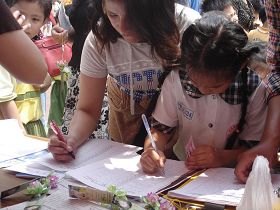 Children sign the petition to voice their righteous support for stopping the persecution of Falun Gong practitioners