Chinese in Vancouver: We'll Recommend the Show to Our Western Friends (Photos)
May 03, 2008 | By Minghui reporter Chen Zhenghong in Vancouver, Canada
(Clearwisdom.net) On April 27, 2008, Divine Performing Arts (DPA) presented its third Chinese Spectacular in the Bell Performing Arts Center in Surrey, B.C., a suburb of Vancouver. Many local Chinese residents, students from China, Chinese immigrants and visitors from China showed up.
University professor: A combination of power and beauty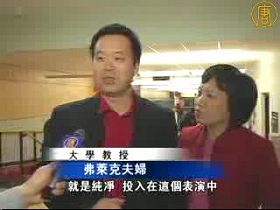 Frank and his wife
Frank and his wife used to be university professors in China. "The performance was pure, not fancy and loud like other shows. I felt I was part of the show. I paid special attention to the number of dancers in their choreography. Chinese tradition is particular about using odd numbers, for example, three times seven equals 21. There were many occasions where the number of dancers was carefully matched. The colors used were very soft, not exaggerated, and made me feel comfortable watching," said Frank. "It was a combination of power and beauty," added his wife.
Ms. Zhao from Vancouver
Ms. Zhao from Vancouver loved "Drummers of the Tang Court." She thought the scene amply represented the might and power of men in the Tang Dynasty. "Excellent! Everyone should see it."
"The Loyalty of Yue Fei" enables children to understand loyalty and dutifulness
Ms. Wu
Beautician Ms. Wu brought her children to the show hoping they could better understand Chinese tradition. Ms. Wu said after the show, "How do we serve our country loyally and what does it mean for a child to be dutiful? Mother and child are inseparable but under certain circumstances there are other priorities. I think the show teaches children this concept."
"We'll recommend the show to our Western friends."
Ms. Long is a social worker and has been living in Canada for over ten years. She came with her friends, and they all enjoyed the show. Ms. Long said, "The show is of high standard. I liked both the singing and the dances. The dancers are very flexible and the singers have great voices."
Ms. Long thought the background projection was a nice innovation, "It had a good effect--I had never seen anything like that before."
Angela has lived in Canada for 40 years. She liked the background projection as well, "It was outstanding and guided me to further understand the story and dances." She said she was very familiar with the stories portrayed in the show and was very very pleased to see them. Angela said she would recommend the show to her Western friends.
The DPA company continued on to Calgary and Edmonton after its last show in Vancouver on April 28.