Practitioners in Denmark Celebrate World Falun Dafa Day (Photos)
(Clearwisdom.net) On May 11 and 12, 2008, Falun Gong practitioners from Denmark held activities in Copenhagen to celebrate the 9th anniversary of World Falun Dafa Day.
On May 13 of 1992, Falun Gong was introduced to the public by its founder Mr. Li Hongzhi. Nearly 100 million people practiced Falun Gong in mainland China before the Chinese Communist Party (CCP) and its head Jiang Zemin launched the persecution of Falun Gong in 1999. Over the next nine years, as its practitioners peacefully opposed the persecution, Falun Gong has spread to over 80 countries all over the world. In the year 2000, May 13 was set as World Falun Dafa Day. This year marks the 9th anniversary of World Falun Dafa Day, and apart from the celebration of Falun Dafa Day, practitioners also send birthday greetings to Master Li on this day.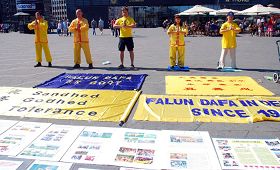 Danish Falun Gong practitioners celebrate "World Falun Dafa Day" on City Hall Square in Copenhagen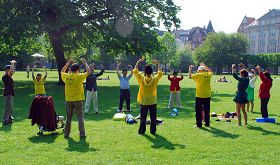 Practicing Falun Gong exercises at King's Park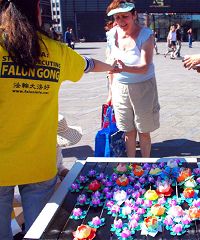 Handing out paper lotus flowers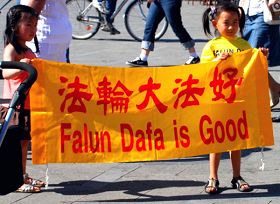 Young practitioners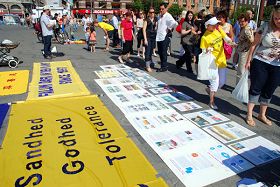 Passers-by read display boards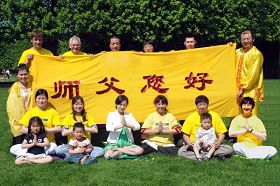 Danish practitioners sending birthday greetings to Master Li
In the afternoon of May 11, display boards and banners to introduce Falun Gong were set up on City Hall Square in Copenhagen. The display boards introduced the journey of Falun Gong's spread all over the world since 1992. The banners read, "Truthfulness-Compassion-Tolerance" and "Falun Dafa in Denmark since 1997" in Danish. The practitioners also made paper lotus flowers that bore the words "Falun Dafa is good".
Since May 11 was also a Danish holiday, the practitioners prepared plenty of literature to pass out. Their exercise music and warm smiles caught the attention of many passers-by. On the eve of the Beijing Olympic Games, China's human rights record has become a concern for the Danish public, and through various channels people have come to know the CCP's brutal persecution of Falun Gong. Many people signed their names to a petition to end the persecution.
Mr. Bauer Anderson, an 80-year-old retiree, is the first Danish Falun Gong practitioner. He started practicing Falun Gong in 1999, and in a short time after that, his severe illnesses vanished. His pale complexion became ruddy, and his full head of white hair turned light brown. Over the last 9 years, Bauer has been front and center in the Danish Falun Gong practitioners' efforts to stop the persecution. Every day he protests in front of the Chinese Embassy to help stop the persecution.
Practitioner Stephen said, "I hope that everyone will come to know what Falun Gong is and how wonderful it is. If we don't treasure the principles of Truthfulness-Compassion-Tolerance, then what will human society become? In mainland China, every day there are Falun Gong practitioners being tortured to death. The CCP's persecution of Falun Gong must stop immediately. I hope that the practitioners in China can soon have the freedom of belief."
The majority of Falun Gong practitioners in Denmark started practicing after the persecution was initiated in China in 1999. Some Chinese practitioners experienced pressure from the CCP regime's persecution, including harassment from the Chinese Embassy during passport renewal and intimidation of family members in China. Some of them suffered the brutal persecution in China, including illegal imprisonment and brainwashing, and managed to escape the persecution by coming overseas. Some suffered the CCP's retaliation for participating in peaceful protests against the CCP's persecution outside of China. Some of their businesses in China were shut down by the CCP. None of these things, though, could affect the practitioners' belief in Falun Gong because of their experiences with the practice. Apart from healing and fitness, Falun Dafa also teaches people the principles of Truthfulness-Compassion-Tolerance.
On the same square, there was a Global Prayer Day concert organized by local Christian groups. Many of the participants came over and said to the Falun Gong practitioners, "We know about the brutal persecution of Falun Gong in China. Many Christian brothers and sisters are also suffering from this type of persecution. Our hearts are with you."
On the morning of May 12, Falun Gong practitioners went to King's Park in Copenhagen to hold a group practice. Over the last ten years, Falun Gong practitioners have taught the exercises free of charge at this location. Three or four people came to the site to learn the exercises on this day, including a Norwegian artist.