Huntsville Spectacular Concludes 2008 Global Tour with Resounding Success (Photos)
May 13, 2008 | By Han Wei
(Clearwisdom.net) Divine Performing Arts presented the Chinese Spectacular at the Von Braun Center Concert Hall in Huntsville, Alabama, on May 6, 2008, concluding a five-month world tour. The audience responded to the DPA's excellent interpretation of China's divinely inspired culture with great enthusiasm.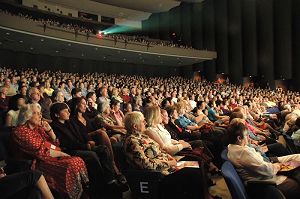 Divine Performing Arts at the Von Braun Center Concert Hall in the "Rocket City" of Huntsville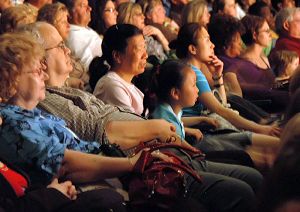 Captivated audience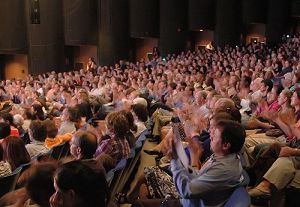 Thunderous applause
Belinda Ong, a professor at the University of Alabama, expressed her admiration after seeing the Spectacular, "This was the first time for me to see such a magnificent Chinese show in Huntsville. It's so wonderful that Divine Performing Arts was able to come to this small city. I think everyone should see it, because it's a performance of unbelievably high standard. Normally people in smaller cities don't have the opportunity to enjoy this kind of grand show, and they would have to travel to major cities like New York or Chicago. But the DPA came here. I am so appreciative of the promoters of this show."
Elaborating on the aspects that touched her the most, Ms. Ong said, "This show was unique, and the costumes were very sumptuous. The plots were based on stories from many different dynasties. What's special about this show is that it mentioned the persecution of Falun Gong. I think the persecution of Chinese people should cease. I had heard about the persecution before, but I didn't know the details. However, everything that is going on in China was brought to us on stage in an elegant and artistic manner."
Martha Verghere, a professor at A & M University, said, "The Spectacular was stunning; it was gorgeous and serene. My favorite was 'Lightness and Grace.' The programs about Falun Gong were great! The persecution should not be happening. I know about Falun Dafa. My colleague, Dr. Yang, told me about it."
Ms. Hu, who is originally from Mainland China, arrived at the Spectacular with her husband, and she echoed similar sentiments, "It was exquisite! I've never seen any show of this scale, not to mention of such impeccable quality. My number one favorite program was 'The Loyalty of Yue Fei,' because it was very inspirational. The dances about Falun Gong were deeply touching and very well choreographed. I simply loved this performance. I left China less than two years ago and my husband is an American."
Ms. Hu's husband, Bruce Eures, is a market analyst, and he said, "I was born in Thailand and grew up in America. America is very far from my wife's hometown of Chengdu, so I wanted her to have a sense of familiarity; that's why I brought her here. This show was very interesting, and I liked it a lot. I studied Chinese history in college, and I really enjoyed the program about the Falun Gong spiritual movement."
Katherine Twilley, also a market analyst, said, "I liked 'The Risen Lotus.' It was lovely. This performance was absolutely fantastic; it was a crash course on Chinese culture."
Salesman Jason Long said, "I was drawn to the kung fu program, 'The Loyalty of Yue Fei.' It was the best! The show was amazing! It revealed a different culture to us."
Pilot Clay Carmes said, "This was an outstanding performance, and I enjoyed it immensely. I especially loved the drums. There were lots of traditional dances, which taught me many things about Chinese culture. Overall, it was interesting and fascinating."
Ms. Lin Minghua brought two granddaughters to the Spectacular. She said, "This performance was very, very good. All the programs exceeded my expectations. I decided to come after seeing a commercial. People who are persecuted suffer a great deal, and it's natural to expect protest where there is suppression. I strongly support Falun Gong. My two grandkids also loved the performance."
From the first show of the 2007-2008 season, which opened in Baltimore, Maryland, on December 18, 2007, and the last show that concluded 140 days later in Huntsville, Alabama, on May 6, 2008, Divine Performing Arts has presented 215 performances in 66 cities across North America, Asia, Australia and Europe and reached about 600,000 live audience members.
Guan Guimin, a renowned tenor and lead singer in the Spectacular, said, "It's relatively easy to put on a good show, but it's much harder to present a show that can move you to tears. In our case, many audience members during our 2008 tour cried throughout the performance."