Falun Dafa in Taiwan--Celebrating 2008 World Falun Dafa Day (Part 1: Awards)
May 11, 2008 | By Chen Cheng-hong
(Clearwisdom.net) It has been 16 years since the public introduction of Falun Dafa in May 1992. Falun Dafa has spread to over eighty countries and regions, won more than 1500 awards and proclamations, and had more than one hundred million people experience better health and peace of mind. In 2000, the Falun Dafa Associations around the world chose May 13 to be World Falun Dafa Day.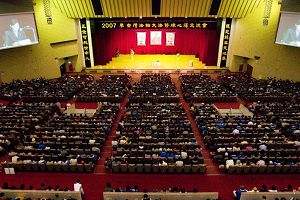 2007 Taiwan Falun Dafa Cultivation Experience Sharing Conference held in Taichung and more than 7000 practitioners attended.
Falun Dafa was introduced to Taiwan in 1995. On April 27, 1995, the first practice site was set up in Yangming Mountain, Taipei. Since then, Falun Dafa has been widely spread across Taiwan due to its emphasis on morality and marvelous effect on healing and fitness.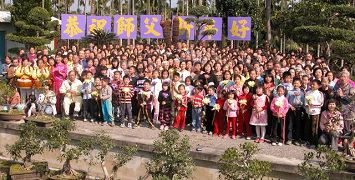 More than four hundred practitioners and friends wish Master Li a happy New Year before the coming of the 2007 Chinese New Year
The Spread of Falun Dafa in Taiwan
In 1999, Taiwan media covered the April 25 peaceful appeal at the State Council Appeals Office in Beijing in detail and Jiang faction's unlawful ban of Falun Gong on July 20. Many people learned about Falun Gong. The number of people attending nine-day Falun Gong introduction video seminars increased from groups of twenty to several hundred. The number of people practicing Falun Gong increased very quickly. Currently there are nearly one thousand practice sites in Taiwan. Almost every town has a practice site.
Chang Ching-hsi, Director of the Falun Dafa Association of Taiwan and Professor of Economics at Taiwan University, said many teachers and students started to practice Falun Gong. He said, "We don't have a directory. But it is estimated that the number of practitioners in Taiwan is over 600,000." Falun Gong practitioners includes professors, presidents, doctors, lawyers, engineers, public servants, police, farmers, business managers, students, housewives etc. Falun Gong is highly praised by government and various circles in Taiwan.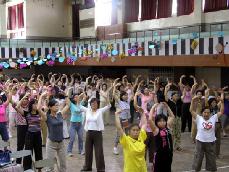 In the second half of July 2005, a Falun Gong introduction camp for teachers was held in Huwei High School. More than two hundred teachers, staff, public servants, and public attended under the joint recommendation of seventeen presidents.
Many practitioners who benefit from the practice established Falun Dafa clubs in their work units to share it with other predestined people. For example, Central Bank, Postal System Hospital, Department of Economy, Department of Finance, Department of Foreign Affairs, county or city governments etc.
China Times reports: Falun Gong club established in Local Court Prosecution Bureau
Before the coming of 2008 World Falun Dafa Day, this series of special articles will present Falun Gong's wide spread in Taiwan from the following topics: 1. Awards, 2. Anti-persecution, 3. Practitioners' stories, and 4. Practicing the exercises and forming Chinese characters.
Master Li said in June 1996 when receiving an award in Chicago that cultivators take fame and interest lightly. But for Falun Dafa, the award had deep meaning since it represents the world's people and society's witness and recognition of Falun Dafa. The following are examples of support for Falun Dafa from various levels of government and professionals in Taiwan.
Taiwan President and Vice President Voice Their Support for Falun Gong Many Times
Due to Falun Gong's popularity in Taiwan, government officials have praised Falun Gong's effect on purifying people's hearts and improving their health. Taiwanese President Chen Shui-bian, Vice President Lu Hsiu-lian, Premier, Speaker of Legislative Committee, President-elect Ma Ying-jeou, county heads, mayors and members of county and city councils support Falun Gong. President Chen Shui-bian and Vice President Lu Hsiu-lian publicly voiced their support for Falun Gong at least ten times. Former mayor of Taipei Ma Ying-jeou participated in rallies in person and condemned the CCP's persecution of Falun Gong.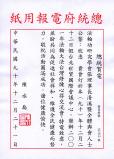 President Chen Shui-bian sent a congratulatory letter to the 2001 Taiwan Falun Dafa Cultivation Experience Sharing Conference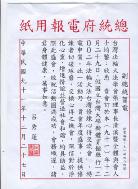 Vice President Lu Hsiu-lian sent a congratulatory letter to 2002 Taiwan Falun Dafa Cultivation Experience Sharing Conference
Since 2001, many government leaders have sent congratulatory letters to Taiwan Falun Dafa Cultivation Experience Sharing Conference. In 2004, more than 6,000 practitioners participated in the conference. President Chen Shui-bian, Vice President Lu Hsiu-lian, former Chairman Lian Chan of Nationalist Party, and then Mayor Ma Ying-jeou sent congratulatory letters. Chairman Huang Chu-wen of the Taiwan United Party gave a speech in person.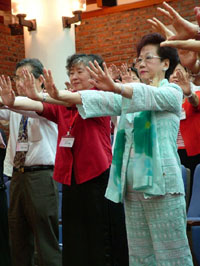 Vice President Lu learns the first set of Falun Gong exercises (first from right)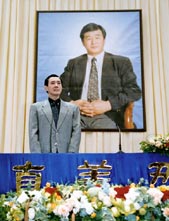 Mayor of Taipei Ma Ying-jeou attended the 2002 Taiwan Falun Dafa Cultivation Experience Sharing Conference and gave a speech condemning CCP's persecution of Falun Gong. He said that freedom of belief is a universal value of a free society and a basic freedom and right. He felt sorrow for Falun Gong practitioners who have been persecuted and killed in China.
Support from the Academic Circle and Parliament
In Taiwan University alone, several dozens of professors, staff and graduate students practice Falun Gong. More than sixty Falun Gong clubs in universities and colleges have been established.
On May 12, 2002, Speaker Yang Wen-chi of Hualian County Council called on communist China to stop the inhuman persecution of Falun Gong practitioners and commended those who strive to follow Falun Gong's principles of Truth-Compassion-Tolerance.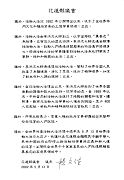 Letter from Hualian County Council
Before the coming of May 13 World Falun Dafa Day in 2007, the hosting party received congratulatory letters, statements and calligraphy from Taipei City Council Speaker Wu Bi-chu, Mayor Jiang Hui-chen of Banchiao City, Members Li Ching-yuan and Yan Sheng-kuan of Taipei City Council, Members Li Chian-ping and Wang Chi of Taipei County Council, Members Lan Mei-chun, Chu Chun-hsiao, and Cai Tung-jung of Legislation Committee, and representatives of Luchou citizens.
Exercise Demonstrations in Communities Receive Awards
To let more people learn about Falun Dafa, practitioners conduct group practice in tourist sites, parks, squares, department stores etc. In local festival celebrations and school sports games, local Falun Gong practitioners held large scale group exercise demonstrations, which was welcomed by local people and awarded by the hosting organizations.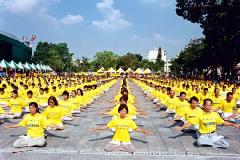 For a sports event on September 25, 2004, Tainan Sports Committee invited Falun Gong practitioners to have a one-thousand-practitioner group exercise as the opening program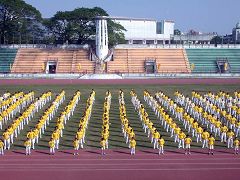 In 2005, Pingdong Education Bureau invited Falun Gong practitioners to have a community Falun Gong practice achievement exhibition

On February 7, 2007, employees of Taiwan Electric Company learn Falun Gong at the company's sports field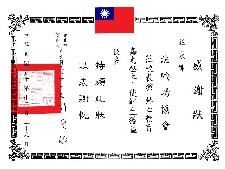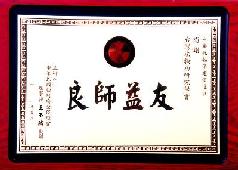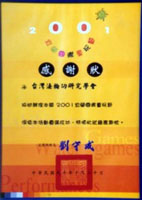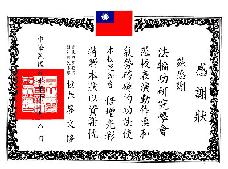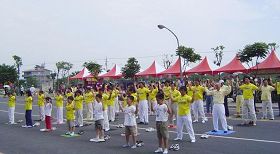 On May 9, 2004, Falun Gong practitioners in Yilan were invited to Suao Jungmin Hospital celebration party to have a photo exhibition and exercise demonstration, which won praise from the director, deputy director and guests.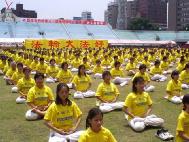 On June 12, 2004, one thousand Falun Gong practitioners conducted group practice at the Taipei Elder Citizens' Health Fair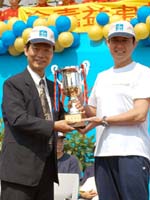 Mr. Hung of Taiwan Falun Dafa Association accepts award from Mayor Ma Ying-jeou (right)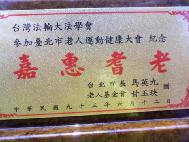 Mayor Ma Ying-jeou of Taipei City commends the Taiwan Falun Dafa Association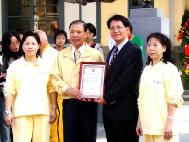 On December 18, 2004, Taichung Head Hung Cheng-sheng (second from left in the front row) issues appreciation award to Falun Gong practitioners for their demonstration of the exercises and waist drum performance at the Wuchi Town Community Celebration.


On May 7, 2005, Falun Gong practitioners assisted Guangfu Primary School for its twentieth annual school celebration. The principal issued an appreciation award.

On November 12, 2006, Falun Gong practitioners demonstrated the exercises at the "Whole Township and Evergreen Health Fair" in Shanchiao High School in Luchu, Taoyuan County. The hosting organization issued two appreciation awards to the Falun Gong exercise demonstration team and waist drum team.
Appreciation award from the Detention Center of the Local Court Prosecution Bureau of the Department of Defense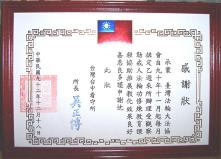 Appreciate award from the Taichung Detention Center