Edmonton: The Most Heartwarming Birthday Present (Photo)
May 10, 2008 | By Minghui/Clearwisdom reporter Heyu in Edmonton, Canada
(Clearwisdom.net) Richard and his wife, Jennifer, saw the first performance of the Divine Performing Arts (DPA) Chinese Spectacular at the Southern Alberta Jubilee Auditorium in Edmonton. Afterward, Richard said that the show was the most heartwarming and interesting gift his wife had ever given him.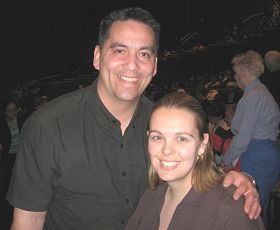 Richard and Jennifer
Richard runs a human resource company and is a father of two. Jennifer was struggling with what birthday present she should give Richard, when she saw an advertisement for the Chinese Spectacular. She bought two tickets immediately and found a babysitter for that evening so that she and her husband could enjoy the show together.
"I really enjoyed it! I felt I was part of this marvelous show," Richard laughed when asked about what he thought of his birthday present, "I loved the rich and diverse content, the pleasant costumes, the brilliant colors, and stylish dances, the music and the solo."
Richard did not know much about Eastern art, history and culture, but after listening to the hosts' narration, he learned more about the inner meaning of the cultural arts presented by DPA. "This show was intellectual and fun. I had never learned so much Chinese history in one day. Chinese culture is charming! It's so great that I can learn about it through such beautiful forms of art.
"My favorite scene was the one with the drums. Their drum beating was amazing! It was so full of energy that I couldn't help wanting to join them on stage.
"The dances with the female dancers were elegant and beautiful as well," said Richard.
Jennifer agreed, "My favorite male dance was 'Drummers of the Tang Court' and my favorite female dance was 'Nymphs of the Sea.' The female dancers' creativity amazed me. They used fans and silk cloth to imitate waves. The silk cloth looked very graceful and the soft music brought peace to the soul."