Director of Edmonton Multicultural Society Has High Praise for Divine Performing Arts (Photo)
May 10, 2008 | By Minghui reporter He Yu in Edmonton
(Clearwisdom.net)
The Divine Performing Arts of New York has reached Edmonton, Alberta, Canada, the final destination for the season. On May 5, Divine Performing Arts presented the Chinese Spectacular at the renowned Jubilee Auditorium.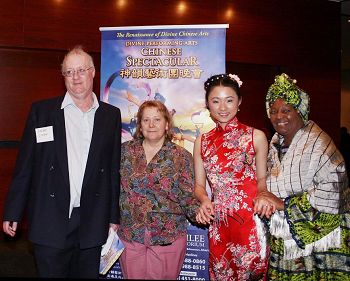 Ms. Aamina (right) and friends
The executive director of Edmonton's Multicultural Society, Nyambura Aamina enjoyed the show greatly. Ms Aamina stayed at the theater for a lengthy period of time after the show concluded. She was excited and inspired, "Even though I was interviewed at intermission, there's so much I still want to say!"
Feels like being in heaven
"Just as the poster stated, "Chinese Spectacular", Divine Performing Arts is truly amazing! The beauty it displays is just enchanting, feels like being in heaven," said Ms Aamina.
"I hope there will be a Divine Performing Arts Gallery, so people can continue to enjoy and experience more of it. I will encourage more people to see the show. I want to ask the Minister of Multicultural Affairs to assist with funding, and give more people the chance to see the Divine Performing Arts." Ms Aamina disclosed a small secret, "Actually, I want to come back and see the show again tomorrow, and I am trying to bring more people. The fact is, I want to see Divine Performing Arts every day!"
Words cannot describe the beauty of Divine Performing Arts
Her face was full of expressions, Ms Aamina tried her best to convey the joy in her spirit after watching the show:
"I love the beautiful traditional Chinese dance, I'd love to learn the way those girls walked, so light and smooth, as if they were floating." "I love the colorful costumes, the bright and magnificent lights presented on stage." "I love the tenor. His voice encompasses a profound spiritual world."
"I loved "The Power of Awareness", and its messages of "Truthfulness, Compassion, Forbearance", and the peaceful dance style really touched my heart. I can see the inner light and beauty of the artists on stage. It is beauty bestowed upon them by heaven."
Ms Aamina felt short of words to describe the show, and said in one sentence, "I loved every program, every act. If I missed praising even one, it would do them injustice."
Bringing new hope to the world
Upon seeing "The Power of Awareness", and the scene in which an ever increasing number of people sought the true meaning of life, Ms Aamina said, "I thought to myself, there are so many good Chinese people, they will definitely change the world, and bring new hope to the world!"
As a Muslim, Ms Aamina understood deeply the lack of religious freedom in China. She thought, "In fact, to have a belief is the way for every person to display their compassionate nature. Regrettably, I did not understand very much about Falun Gong in the past. But it's not too late, I will definitely find out more about it now."