Radio Show Host: It Is Truly a Perfect Show (Photo)
April 08, 2008 | By Minghui reporter Shen Rong
(Clearwisdom.net) Stephen Sim, a well-known local radio show host in Sydney, watched the Chinese Spectacular on April 2, and afterwards said, "It is truly a perfect show."
"The whole show was great. When the curtain was open, dancers emerged from the clouds on the stage. It was breathtaking. The show manifested the spirit and essence of Chinese culture before the communist period. This is very important."
Mr. Sim liked all the programs. He highly praised the dancers, saying they are the world class. He said the theme of the show was clear and it was demonstrated by different dances. He believed no matter where people sat, they would enjoy it.
"I know some Chinese culture, but I still learned a lot today. The three-dimensional background scene design taught me a lot of things and helped me to understand the content of the show. It was so great," he said.
Mr. Sim wanted to tell other people how good the show is. "You will not regret attending. I felt lucky to be here tonight and I want to watch it one more time. I will talk about this show in my program next week. I will tell my audience how good it was," Stephen said.
Teresa and her husband, Joseph, are the owners of a real estate company. She is a Malaysian-Chinese. To promote Chinese culture, she bought 44 tickets for her friends and employees.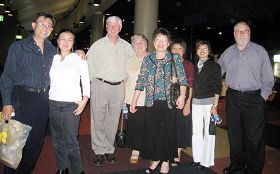 Teresa and her family enjoyed the show on April 2.
Teresa and her family have been promoting Chinese culture for many years. They have supported Chinese school activities, Chinese festival activities and Chinese community activities.
Teresa liked the Chinese Spectacular because of its rich and profound contents. "I hope that more people will see it. So I recommended it to my friends and family. I also bought 44 tickets for my employees," she said.
Teresa highly praised it. "I like it very much. The dance, costumes, music, and the 3-D background scene design were all wonderful. I enjoyed it very much. The music and dances brought me the feeling of peace," she said.
Teresa hopes that her children will remember Chinese culture. "I like the cultural events. I like Chinese culture, which reminds me that I am Chinese. I hope my children will remember Chinese culture too. They grew up in the Western society and don't know very much about Chinese culture. So, I brought them to the show too," Teresa said.