Austria: Falun Gong Practitioners Stage a Peaceful Appeal to Commemorate the April 25 Appeal (Photo)
(Clearwisdom.net) On the evening of April 25, 2008, Austrian Falun Gong practitioners staged a peaceful appeal at the Chinese Consulate in Vienna to commemorate the incident in which over 10,000 Falun Gong practitioners peacefully appealed near the central government compound of Zhongnanhai in Beijing. They protested the Chinese Communist regime's escalating persecution of Falun Gong practitioners on a large scale in the name of protecting the Olympics. Austrian National Television and other mainstream media outlets covered this activity.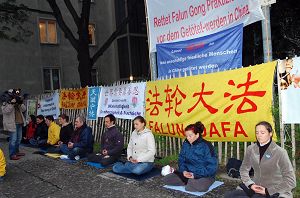 Austrian Falun Gong practitioners commemorate April 25 at the Chinese Consulate in Vienna Nine years ago on April 25, 1999, the arrest of innocent Falun Gong practitioners by Tianjin police caused Falun Gong practitioners from various places across China to travel to Beijing to stage a peaceful appeal. They tried to explain to the central government that Falun Gong practitioners are people who cultivate themselves according to the principles of "Truthfulness, Compassion, Tolerance." They also asked the government for a legal and open cultivation environment. After hearing the practitioners' requests, China's then Premier Zhu Rongji discussed with practitioners and a reasonable resolution was reached.
However, out of personal jealousy, former Chinese president Jiang Zemin launched the massive persecution against Falun Gong on July 20, 1999.
Over the span of the nearly nine years after that day, the regime has perpetrated horrendous atrocities against Falun Gong practitioners. It has harvested organs from living Falun Gong practitioners for profit, and continues arresting Falun Gong practitioners on a large scale under the excuse of preparation for the Olympics.
The nine-year-long persecution has not deterred Falun Gong practitioner around the world, and instead, practitioners worldwide have launched activities exposing the persecution. More and more people have joined the cultivation of Falun Gong, as the practice has been spreading around the globe.