Performance of "Descent of the Celestial Kings" Brings Peace and Joy to Society (Photos)
March 08, 2008 | By Minghui reporter Zheng Yuhan from Tainan, Taiwan
(Clearwisdom.net) On March 2, 2008, the Divine Performing Arts company presented its fourth and final show in Tainan, the city known as the ancient cultural capital of Taiwan. The Tainan Municipal Cultural Center became the city's focus as many local officials and professionals attended the performance.
"Watching the Chinese New Year Splendor opened my mind, and I am looking forward to seeing it every year."
Mr. Huang Fusheng, head of the Business Management Association at Chung Gong University, was interviewed during the intermission. He thanked a good friend for advising him to see the show. He found the whole performance very moving and thought that every piece was wonderful. He was also impressed by the enthusiasm and hard work of the performers and sponsors. Mr. Huang said with hope, "To my knowledge this is the second time the Divine Performing Arts has performed in Tainan. This opportunity does not come around every year. I hope that every friend of mine in Tainan can see the show."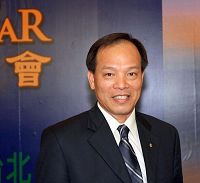 Head of the Business Management Association at Chung Gong University Huang Fusheng said that he hoped the Divine Performing Arts would come to Tainan every year.
During the first half of the show, Mr. Huang was deeply moved by the opening performance "Descent of the Celestial Kings." It made him think about the current situation and how human hearts have degenerated. He thought the "Descent of the Celestial Kings" was truly amazing, and could really bring peace and joy to society. He said, "I feel elated after the show. I think it's really good, really worth the trip." "I believe that whoever sees this performance, his mind will be opened and he will walk a straight and honest path, and society will become more peaceful, healthy, and happy."
Dr. Zhong Mingxun, gynecology and obstetrics clinic director, and Dr. Li Yizhang of the therapy division are both professionals who were educated in the West since childhood. Both were sincerely moved by the performance. Dr. Zhong said, "We are surprised at the professionalism and high standards of the performance. We are surprised to find that Chinese traditional culture can be displayed in such a great artistic presentation." Dr. Zhong said that the whole world would know from the performance of the Divine Performing Arts that Chinese culture can be promoted along with Western culture. Dr. Zhong said with pride, "What especially moves me is that, although we appreciate Western culture, now we find that our Chinese culture can be presented extremely well, too!"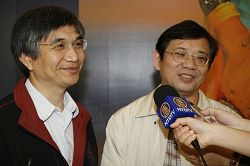 Dr. Zhong Mingxun, director of a gynocology and obstetrics clinic (right), and Dr. Li Yizhang of the therapy division
Dr. Li Yizhang said: "I, too, was moved after watching the show. I agree with Dr. Zhong. The Divine Performing Arts really showcases Chinese culture so well." "We seldom have a chance to see this. We thought the dances were so lively. The performance is very different from what we see in our daily lives." "We only know about ancient Chinese culture, like court dances, from books. It never occurred to me that I could see them live on stage. I am really impressed."
Both of them said that, if there is a chance that the Divine Performing Arts group comes to Tainan again, they would certainly invite everyone they know to see the show with them.
Dr. Zhong said, "The advanced light and sound technologies available now has enabled us to promote our culture in a way that was impossible before. It's the best way to promote our culture to everybody. We don't need to buy books and spend a lot of time trying to understand. From the performance of the Divine Performing Arts, we can let people understand our culture in a couple of hours. It's really good!"