Member of the Parliament of Victoria, Australia: A Performance to Remember My Whole Life (Photo)
March 31, 2008 | By Zheng Yuhan
(Clearwisdom.net) Divine Performing Arts completed its shows of the Chinese Spectacular in Korea and arrived in Melbourne, the "Art Capital" of Australia, on the morning of March 27, 2008. The company started its twenty-one-performance tour of five cities in Australia, which will run from March 28 to April 15.
On March 28, 2008, the first show was held in Victoria Art Center, the biggest performance hall in Melbourne.
Jenny Mikakos, a member of the Parliament of Victoria, has two degrees in art and law. For the past twenty years, she has been a member of Amnesty International. She has a special interest in the Chinese Spectacular.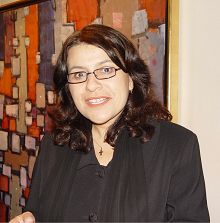 MP Jenny Mikakos: "The Chinese Spectacular is the most professional and moving performance I have ever seen."
MP Mikakos serves the North District after being elected in 1999. She told the reporter that she has participated in many events in the Chinese community and has seen many Chinese performances. She said, "In my memory, this is the best show I have ever seen. It is very professional and impressing. I think it is a wonderful show, which I will remember my whole life. Each number has its own features and helps me understand Chinese culture from different angles."
MP Mikakos said that the whole performance was impressive and she passed the whole evening in delight. She also indicated that she feels that the Australian people will appreciate the show, with its presentation of China's five-thousand-year history, and said that it's very important for people to understand Chinese culture.