Swedish MP: Chinese Spectacular Maintains Chinese Traditional Culture (Photos)
March 31, 2008 | By Wang Hanqing
(Clearwisdom.net) The Divine Performing Arts held four shows of the Chinese Spectacular in Stockholm, Sweden beginning on March 20, 2008, generating much attention and discussion about Chinese traditional culture. On March 27, the performance company presented a show at Konsert & Kongress (the concert and convention hall in Linkoping). Many Swedish people traveled via bus to attend the show. Member of Parliament Andreas Norlen said excitedly after watching the show, "I feel so excited after seeing this performance about Chinese traditional culture."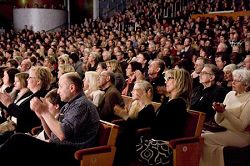 The music hall was filled to capacity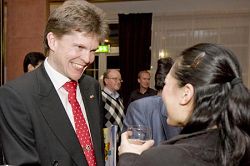 MP Andreas Norlen (left) talks with a performer
MP Andreas Norlen commended the performance at intermission, after seeing the first half of the show. He said he enjoyed the rich colors, outstanding choreography, and the pieces with historical stories and traditional sensibilities. He was impressed with the drum playing, and said, "The drum rhythm throughout the whole hall was so exciting! It is powerful."
Divine Performing Arts Maintains Chinese Traditional Culture through the Arts
Swedish people advocate human rights and freedom. Interference by the Chinese Communist Party (CCP) with the Chinese Spectacular performances in Sweden caused much indignation. MP Norlen and six other MPs went to see the show to express their objection to the CCP's attempts at interfering with internal affairs in Sweden. The MPs indicated that when the CCP attempted to export its policies to Sweden, they felt they must speak out. MP Norlen said, "It cannot be accepted. We must protect freedom of expression, and state our position. We hope the CCP can learn a lesson."
MP Norlen mentioned, "The CCP attempts to control China's society, policies, and laws. Controlling China's government is not enough though, it tries to control people's souls and spirits. It tries to reach this goal by controlling culture. But Mao's controlling system damaged Chinese culture. Therefore, when I see that the Divine Performing Arts maintains traditional culture with this artistic format, I am excited. I think the CCP not only exerts control at home, but attempts to restrict Swedish cultural events by interfering with tonight's show."
The Best Retaliation is to Attend the Outstanding Show
MP Norlen said, "A foreign government attempts to dictate what can and what cannot be shown on a Swedish stage. This is too unreasonable and cannot be accepted. I think the CCP damages itself and hurts others. We heard from the host that after the CCP's attempt to interfere with the show was exposed, ticket sales increased quickly and all the tickets were sold out. I think this is very good. The best retaliation to the CCP's bullying attempt is to watch the show."