A Lecturer: "I Felt Purified, and Found the True Meaning of Life"
March 28, 2008 | By Wang Qinghan, Minghui Reporter in Daegu, South Korea
(Clearwisdom.net)The Divine Performing Arts of New York (DPA) returned to perform full-house shows in Daegu, Korea. On March 23, the show in Daegu attracted people from all walks of life, who gave the performance warm applause.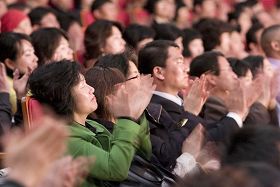 The audience applauds enthusiastically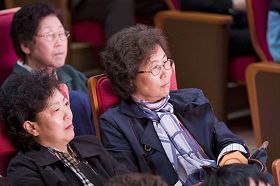 The audience watches the performance attentively
A Lecturer: I've Found the True Meaning of Life
Lecturer Wu Mingzi from Pohang came to watch the show upon her husband's recommendation, as her husband had watched the performance and highly praised it. Ms. Wu said, "I was truly amazed!"
"Everyone involved in the production must have worked very hard," Ms. Wu said with appreciation. "When I watched the program 'Descent of the Celestial Kings,' I was very excited. I was moved to tears. I felt a very strong energy field."
The program "The Fruits of Goodness" truly inspired Ms. Wu. She was still immersed in the story when she was interviewed. She said, "The two boys were granted a treasured book after doing a good deed. I was really impressed seeing how they were filled with joy."
Wu Mingzi said that many people care only about their own lives in this turbulent world She said, after watching the Divine Performing Arts, she realized she shouldn't live like that. Instead, she would do more good deeds, and pursue a rich spiritual life in addition to just satisfying her financial needs.
In the end, Wu Mingzi told the reporter, "After watching the DPA performance, I felt purified, and found the true meaning of life."
http://minghui.ca/mh/articles/2008/3/24/175106.html
Company Vice President: Tears of Excitement Come from the Heart
Ms. Huang Mingshu, vice president of Hongyu Investment Corp had watched the performance of Divine Performing Arts of New York (DPA) in Seoul. She felt extremely sorry that the performances in Pusan were canceled due to pressure from the Chinese regime. When she heard that DPA would return to Daegu, she came to watch the show again, and invited her friends to come with her.
Huang said, "[I] should let more people know about DPA performances sooner. The minute I sat here, I felt very touched. A teacher who came with me also sensed this message that we should let more people know about it and awaken people. Civilization, knowledge and science are not a panacea. We should all come to listen to this divine message as early as possible, and pass it around as soon as possible. When I watched the performance today, tears of excitement poured from my innermost soul, and I couldn't hold them back."
Ms. Huang continued, "Even though the Chinese Communist Party interfered with the show, the Divine Performing Arts was able to perform in Daegu. It's our good fortune. My hometown is Qingzhou. I lived in Daegu for over ten years, and moved to Seoul later. Today, the enthusiastic applause showed me how much the Daegu audience was moved by the performance. I think How lucky we are! "
related article: http://minghui.ca/mh/articles/2008/3/24/175071.html