Manager of Taiwan Formosa Petrochemical Corporation: I Will Never Forget This Show (Photos)
March 26, 2008 | By Hong Dao and Liu Wenxin
(Clearwisdom.net) Divine Performing Arts toured five major cities in Taiwan and conducted its twenty-second performance of the Chinese Spectacular in Chiyi on March 22, 2008. Manager Wu Hsin-che, from the Formosa Petrochemical Corporation, commended after watching the show, "I think this is first-class international performance. I will never forget it. It is truly enjoyable. Very good!"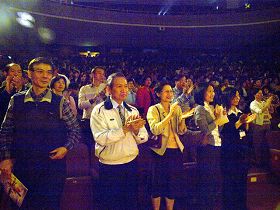 Audience stands to show their appreciation at the final Divine Performing Arts show of its Taiwan tour in Chiyi
Mr. Wu said excitedly, "I am very pleased today to enjoy such a high-class show. The performance presented our five-thousand-year history and culture and integrated modern technology. Each story was presented thoroughly with dancing and musical melodies, or the moving drum sound."

Manager Wu Hsin-che of Formosa Petrochemical Corporation
International-level performance, I'll never forget it!
About the show's content, Mr. Wu said delightedly, "It is truly high-class visual enjoyment. In the dancing, besides the music and drum coordination, it presented a perfect combination of power and beauty.
"It is touching that the company presents well-known traditional stories on stage to explain devotion, filial piety, integrity, and obedience under the accompaniment of melodious music. The 'Drummers of the Tang Court' expresses the prosperity of the Tang Dynasty by using the stirring drum sound. Each number has its own characteristic. I think it is very good.
"China's five-thousand-year history and culture are precious. It is touching to present it today with modern technology. The audience will have fond memories of the show after seeing it."
He continued, "After watching the entire show, I think it is a first-class international-level performance. I will never forget it! Never forget it! It is truly a high-level, enjoyable production!"