Swedish Opera Singer: It Displayed a Wonderful Kingdom (Photos)
March 26, 2008 | By Shen Rong from Copenhagen, Sweden
(Clearwisdom.net) On March 20, 2008, the first Chinese Spectacular show in Northern Europe presented by Divine Performing Arts touched the audience. Applause from the audience was heard from the beginning to the end. Even after the curtain was drawn, the audience continued applauding. The performers came out for several curtain calls, but the audience was still reluctant to leave.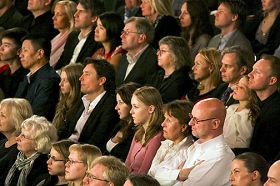 The first show by Divine Performing Arts touches the audience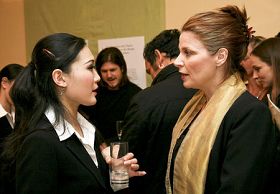 Noted opera singer Charlotta Huldt-Ramberg (right) chats with a member of Divine Performing Arts
Displaying a Wonderful Kingdom
Noted Swedish opera singer Charlotta Huldt-Ramberg and her husband, Hans Ramberg attended the first show in Sweden. After the show, Ms. Huldt-Ramberg said happily, "I was intoxicated by the Chinese culture displayed by Divine Performing Arts. It displayed a wonderful kingdom, very attractive. Comparatively speaking, at that time [the ancient times depicted in the Spectacular] Northern Europe was still in a stone age."
Ms. Huldt-Ramberg said that the show was very good and she enjoyed the cultural legends of Chinese history. She said it seemed as if it had become part of our own culture. "This is a very pleasant thing and I was fascinated by the show. It's beautiful and made me very happy. The ending of the show was terrific."
Her husband was amazed by the Erhu (a two-string fiddle) played by Qie Xiaochun and the moving backdrops. "The sound of the Erhu is most wonderful! It's fascinating! And the backdrop with the moving scenes is really beautiful, especially the legend and fairy tales depicted on the backdrop which made me feel as if I was in it. I also like the diversity of Asian culture."
This is a Very Precious and Valuable Evening Show
Charlotta Huldt-Ramberg is artistic director of the Regina - Stockholms Operamathus and her husband is a drama director. Viewing the Spectacular with their professional eye, the couple shared the same opinion: that the show was precious and valuable. "I am very glad to see a different culture which is as precious and valuable as ours. It showed that we are the same kind of people and there are only some differences. I can see that the performers in the Divine Performing Arts are all very talented artists. I can see this very clearly. The singers are also very good. I would say they are all very well trained."
This was the the thirtieth show in Europe performed by Divine Performing Arts, which has already toured nine countries including Germany, France and Great Britain. After this show, they will perform four more times in two additional Swedish cities, which will make it possible for nearly ten thousand people in Sweden to see the unique beauty of traditional Chinese culture.