Artists in Stockholm Praise the Divine Performing Arts Chinese Spectacular (Photos)
March 25, 2008 | By Minghui/Clearwisdom reporter He Ping
(Clearwisdom.net) On March 20, 2008, the Divine Performing Arts Chinese Spectacular debuted at Cirkus Theatre in Stockholm. The audience warmly welcomed the show, and many local artists expressed high praise for the show.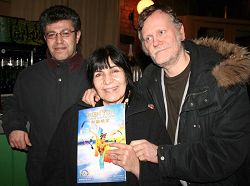 Artist Ennart Asd (right), his wife Serpil Inanc and a friend
Ennart Asd, an artist, his wife Serpil Inanc and their friend enjoyed the show. Serpil Inanc was excited about the Spectacular. She said, "Every performance was great. Everything - dance, music, color, costumes and the background scene design - was great. The show inspired me to read more about Chinese culture."
Ms. Inanc said that she could sense the peacefulness and joy in the drum dances. She added, "Spirituality is very important to people. The principle of 'Truthfulness-Compassion-Forbearance' is very important and beneficial to society."
Ms. Inanc and her husband said that they would come to the show again next year and they would recommend it to their friends.
Photographer Celilia Andersson of Malmo said, "The show was wonderful. I enjoyed it very much."
Photographer Celilia Andersson of Malmo
Ms. Andersson said, "The scenes were a true splendor. The hosts were humorous and were very helpful to the audience in understanding the content of each performance."
Ms. Andersson said she felt fortunate that one of her friends told her about the show. She said, "I have been to Beijing and Lhasa, but I have never seen such a great show. The Chinese performers in the Spectacular were excellent and wonderful."