County Council Member: My Heart Is With Divine Performing Arts (Photo)
March 25, 2008 | By Minghui reporter Wu Hanjia
(Clearwisdom.net) Yunlin County Council Member Ms. Zhou Xiuyue is a big supporter of social justice, art and culture. She is also a well-known dancer who owns a dance studio. Ms. Zhou showed great interest as soon as she learned about the Divine Performing Arts' (DPA) visit to Taiwan.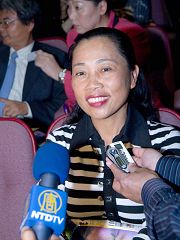 Yunlin County Council Member Ms. Zhou Xiuyue
On March 20, 2008, Ms. Zhou joined a full house at the National Chung Cheng University's auditorium to attend the Divine Performing Arts' show. Ms. Zhou said, "For a dance performance, most people focus on things like costumes. But there is something more fundamental with DPA. It is an outstanding group, and everything they presented on stage was first-class. What touched my heart was the message of truth and compassion conveyed by the performance. My heart is with Divine Performing Arts."
She said, "The sincere look in the dancers' eyes was admirable. The presentation through the dancer's movements was vivid and so expressive. It was easy for the audience to get into the show and feel its message. In our society, I think the show's message can help improve the fundamental values and moral standard of our society, which can in turn help rectify people's minds."
Ms. Zhou added, "The musical performance was as if it came from heaven. The use of multimedia was superb and creative, and it is really inspirational to the art community in Taiwan."