New York: Promoting Falun Dafa in a Shopping Mall in Long Island (Photo)
March 25, 2008 | By Long Island Falun Dafa practitioners
(Clearwisdom.net) On Saturday March 22, 2008, Falun Gong practitioners in Long Island went to Sunrise Shopping Mall to promote Falun Dafa.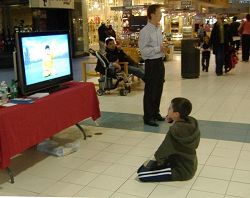 A boy learns the fifth Falun Gong exercise

Many shoppers stopped in front of the stand to watch the exercise demonstration and asked for Falun Gong materials. They showed strong interest in learning the exercises and asked for more details about Falun Gong and group practice sites. Some people followed the movements in the video.
The practitioners gave out paper lotus flowers with tags that said "Falun Dafa is Good" and "Truthfulness, Compassion, Tolerance". A woman read it to her daughter, and the little girl came back and hugged a practitioner to show her gratitude.
People readily identified with the principles of "Truthfulness, Compassion, Tolerance", which was printed on the flyer. During the activity, many people also talked with the practitioners about the persecution in China. One employee in the shopping mall said that he had learned about the persecution by the Chinese Communist Party long ago and expressed his indignation.