County Council Member: "It Would Be a Great Pity If One Misses the Show" (Photo)
March 02, 2008 | By Minghui reporter Huang Yusheng
(Clearwisdom.net) Huang Yuejuan, a county council member of Tainan, watched the Chinese Spectacular last year. This year, she came to the show again. She told the reporter that her favorite this year was the drum dance. She felt sorry that the Divine Performing Arts can only stay in Tainan for a short period. She said, "It would be a great pity if one misses the show."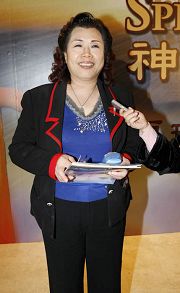 Huang Yuejuan, a county council member of Tainan
Ms. Huang said the dance "The Fruits of Goodness" deeply touched her, because the modern society really needs the righteous thoughts manifested in the dance. She was glad to see that the theatre was packed, but felt sorry that the arts troupe can only stay in Taiwan for a brief period.
Ms. Huang is aware of how popular the shows are around the world, so she came to the show with two of her assistants, although she has a very busy schedule. She said the most important thing for a person is not the material life, but the spiritual life. The Chinese Spectacular has a clear message that one needs to have high moral character to be respected in society.
As a Buddhist, Ms. Huang said the moral standard in the modern society has greatly declined. She hopes that people will follow heavenly principles. In this sense, she wishes the Divine Performing Arts could hold more shows in Taiwan.
When talking about the dance "The Power of Awareness," Ms. Huang said many city and county councils in Taiwan have passed resolutions to condemn the persecution of Falun Gong, and discussed the human rights violations regarding the persecution. She also said that she values the Falun Gong's core principles of "Truthfulness-Compassion-Forbearance."
Ms. Huang expressed that she was happy and honored to see the show. She recommended the show to her family and friends. She said that she would recommend the show to her students too.
Ms. Huang said that due to the presidential election in Taiwan, many Taiwanese politicians are too busy to attend the show, which she thought was a pity for them. She knew how precious this chance is, so she drove a long way to the show, and she felt it was worth it.