Paris: Show Displays New Hope and Peace (Photo)
(Clearwisdom.net) On the evening of February 29, 2008, the Divine Performing Arts Company held the first show of the Chinese Spectacular in the Palais des Congres de Paris. Many spectators expressed that they enjoyed the traditions manifested in the show.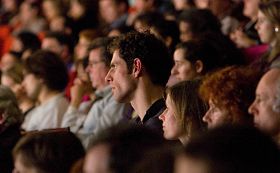 Audience at the Palais des Congres de Paris on February 29, 2008
February 29 is Ms. Celerier's birthday. She works with disabled children. Her friend Ms. Lerbier came to see the Spectacular with her. Ms. Lerbier is originally from Chile and works as a production manager in a ballpoint pen factory.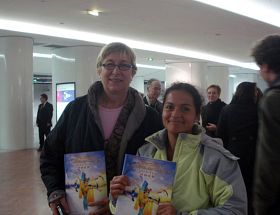 Ms. Lerbier (left) and Ms. Celerier (right)
In an interview after the performance, Ms. Lerbier said enthusiastically, "The show was very beautiful and had many spiritual aspects that I did not expect; nonetheless I loved and adored them. I thought the dance was almost like acrobatics with some of the poses. However, this performance also has a theme, and many colors, costumes, inner meanings, philosophy... I liked them all! I am surprised, for it went beyond my imagination."
Ms. Celerier felt that the show expressed a message through artistic methods, and displayed spiritual hope and peace. She added, "We hope the Olympics can also spread such a message. I hope people can be clear that this sort of thing is what our world needs most."
Ms. Colette is a retired teacher. She also said that the show was very beautiful, and many of the scenes were lovely, along with the costumes and the dancers.