Twenty Thousand Tickets Sold, Taichung Moved by Divine Performing Arts Shows (Photos)
March 16, 2008 | By Minghui/Clearwisdom correspondent Wang Ching-han
(Clearwisdom.net) The Divine Performing Arts of New York (DPA) successfully concluded its five shows in Taichung on March 12, 2008. There were twenty thousand tickets sold for all five shows. The audience was unwilling to leave after the final show. They gathered on the square in front of the auditorium at National Chung Hsing University to chat about their impressions.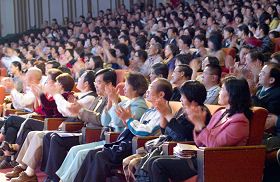 The Divine Performing Arts concluded its final show in Taichung on March 12, 2008
Three government officials and representatives saw the Spectacular on March 12.
Former Director of Chang Hua County Cultural Affairs Bureau and Consultant of Council for Cultural Affairs Chen Ching-fang said, "The 'Drummers of the Tang Dynasty' is pure Chinese. It is a combination of music, art, and dance. The artists had great training. Their performance was superb, outstanding...I learned from the show that Falun Gong is a cultivation practice of mind, body and spirit. It is good for morality and for people's hearts. The Spectacular is very educational. I think that the audience was moved. It was a very informative and artistic show. I look forward to this outstanding performance every year!"
Yunlin County Councilor Hsieh Shu-ya said, "My favorite is 'Nymphs of the Sea.' It is a perfect combination of beautiful movements and music. I wished that time would stop when I was watching the show. I had never seen such a show of Chinese culture. 'Heart-shaking' is how I could describe it--from the bottom of my heart.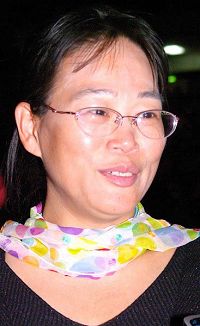 Yunlin County Councilor Hsieh Shu-ya
Ms. Hsieh said, "I was moved to tears during 'The Risen Lotus Flower.' I was deeply touched. The song by Soprano Huang Biru greatly shook my heart. She has a penetrating voice. I can't find the right word to describe my response, but her performance was great! I sincerely admired the music, dances, and technologically sophisticated background!"
Taichung County Concilor Lin Pi-Hsiu said, "Wonderful! My favorites were the dances. The dance movements, the dancers' carriage, the background, and the stories take you to an ancient age."


Taichung County Councilor Lin Pi-Hsiu
Ms. Lin said, "I thought every performance was great. It is a top-class show. I used to like history a lot when I was a student. I also like Buddhism and issues of faith. The opening number, 'Descent of Celestial Kings' had religion, culture, and beautiful dancing. It was so great that I don't know how to adequately praise it. I can only repeat: Glorious! Glorious! Glorious! I feel today is the happiest day because I got to see my favorite show!"