Equipment Company Senior VP: "Every Piece Is Unique, While Also Complimenting Each Other" (Photo)
(Cleariwsom.net) Mr. Hong-tu Lin, senior vice president of a famous southern Taiwan equipment company, invited more than 10 colleagues to see the show in Kaohsiung. Mr. Lin said that the show was carefully designed and it was nearly perfect. "Every piece is unique, while they also compliment each other. No wonder people all want to come back to see it again."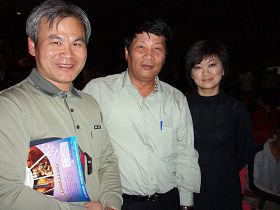 Hong-tu Lin (center), senior vice president of an equipment company, brings his colleagues to the show
Mr. Lin especially appreciated the pieces about Chinese legends. "The dances which portrayed stories such as 'The Lady of the Moon' and 'The Loyalty of Yue Fei' brought us back to the past and let us review our ancestors' great achievements and the traditional values such as loyalty and filial piety. The show is very good for families. Though many of my colleagues could not come tonight because of conflicts, I am sending them to see the show in other hosting cities. Next year, I will recommend this show to more colleagues."
Mr. Lin said that it was his second time in a row to see the show and he still wanted to see it a third time. "I feel it is not enough to have this show come to Taiwan just once a year. The Divine Performing Arts promotes authentic traditional Chinese values, and it would be great if we could have it in Taiwan twice a year."