Chinese New Year Splendor: A New Celebration Alternative for the New Year (Photo)
(Clearwisdom.net) Mr. Gong doesn't speak Chinese, but he brought his family to the Chinese New Year Splendor on the afternoon of February 2 so that his children could experience classic Chinese dance and music.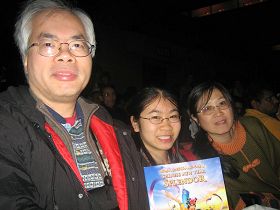 The Gong family
During the intermission, Mr. Gong said that the show so far was great and Tenor Ming Hong's resounding voice and the Tang Court Drummers were excellent.
Ms. Zheng came from New Jersey with her husband and daughter to see the show. She said that their son bought the tickets for them. Though the traffic was very heavy, she said that she felt very lucky to have arrived on time, so as not to miss any part of the show.
Frank is a Thai immigrant married to Lin, who is Chinese. The couple and their two children each had their favorite performances in the show. While Lin loved the gentle dances, Frank favored the drummers, and the children were fascinated by the first piece, "Creation," and the drummers.
When asked whether they would celebrate Chinese New Year by attending this show again, Mr. Gong said that he believed all Chinese would love the show. Ms. Zheng and Frank both indicated that it would be a great idea.