Belgian Engineer: Show Inspires People to Ponder (Photos)
February 27, 2008 | By Li Xin, Minghui/Clearwisdom reporter in Belgium
(Clearwisdom.net) At 8:00 p.m. on February 26, 2008, the Divine Performing Arts Touring Company staged the premiere show of the Chinese Spectacular at the Stadsschouwburg Theater in Antwerp, the diamond capital of the world. Stadsschouwburg is one of the top-class theaters in Belgium, with a seating capacity of 2,000. The premiere of the Divine Performing Arts Chinese Spectacular was played to a packed house. The atmosphere in the theater was warm and enthusiastic. At the end of the performance, the performers answered three successive curtain calls, to warm and continuous applause.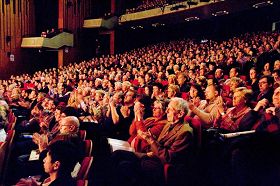 The audience warmly applauded the wonderful performances by Divine Performing Arts at the Stadsschouwburg Theater, Antwerp, Belgium.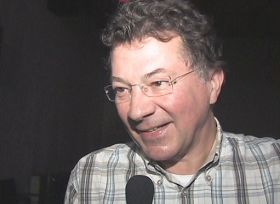 Engineer Roger De Gruyter said that the Divine Performing Arts Chinese Spectacular is thought-provoking
After the show, the reporter met an audience member, Mr. Roger De Gruyter who was still lingering around. Mr. De Gruyter is an engineer for a German company. His parents had lived in China for many years, but they had to leave the country and return home due to the Chinese Communist Party's discrimination against foreigners. De Gruyter told the reporter, "This is a beautiful performance! I'm very happy that I've come to see it. Seeing those dances depicting ancient stories was so enjoyable for me." He continued, "History is important for everybody. China is a big country, and for people who are living in China now, I believe that they should have the right to say what they want to say and what do they want to do. The performance tonight brought history back to the present. It was very thought-provoking."
Mr. De Gruyter said, "The [Chinese] way of singing and dancing in the show, and such a joyful performance, was really amazing. ... They [the performers] are sincerely doing it. I think they conveyed a message of hope for freedom, hope for happiness, and hope for being able to freely express themselves, but not getting angry because of anyone or anything. Moreover, if you believe in it, you can be free, you can be happy and can succeed."
He summed up his impressions of the Spectacular: "I really liked those dances! I enjoyed every second and every movement in the performance. I really enjoyed myself. I think many European people will appreciate the show."