Korean Cultural Foundation President: The Chinese Spectacular Radiates Truth and Kindness (Photo)
February 26, 2008 | By Xue Mei, Minghui correspondent in Seoul
(Clearwisdom.net) The president of the Korean Cultural Foundation, Bo Hi Pak, attended the fourth Chinese Spectacular show by the Divine Performing Arts in Seoul on the evening of February 24, 2008. He highly praised the performance. He said, "This is really a very great performance. It's amazing that overseas Chinese are able to create such wonderful artistic production."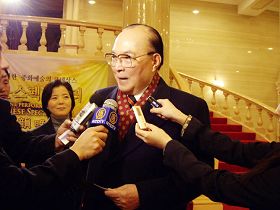 Bo Hi Pak, president of the Korean Cultural Foundation, commends the Divine Performing Arts
Dr. Pak said he was deeply moved by the show's message. "In particular, the performance conveyed a very good message, the eternal truth, everlasting truth, in a beautiful and bright way. The message is 'Truthfulness-Compassion-Forbearance.' If our human beings truly take the three words as a guide for their lives, and people around the world take the three words as a guide, it would be remarkable. I hope it will be even more successful, and come to Korea, and around the world every year, radiating the light of truth and kindness to the whole world."
With some knowledge of the performing arts, Mr. Pak commented that the elements of stage art, including choreography, costumes, music, and lighting were beautifully presented in the Divine Performing Arts performance. He described the stage backdrop and said, "It condenses 5,000 years of ancient legends and history, using the latest high-tech effects and lighting, on the stage. Art should be inspiring. The performance is really beautiful and touching!"
Forty-five years ago, Dr. Pak was himself involved in artistic performance. His masterpiece was "Little Angels." He said that at that time, an explanation had to be given prior to the performance. One would not understand only by watching. There were no high-tech effects then, so it was very difficult to present ancient Korean art to foreigners.
Dr. Pak said he was not an artist, but a military officer. His "Little Angels" was born out of personal inspiration. So he knows it is not an easy thing to form such a large performing company [referring to the Divine Performing Arts], including the two hosts, as they need to have much training.
He expressed his sincere gratitude for the message conveyed by the Divine Performing Arts world-class show that touched his heart and soul.