"Everyone should see the show" (Photos)
February 02, 2008 | By Su Qing
(Clearwisdom.net) On the evening of January 30, 2008, the first of the Chinese New Year Splendor shows was performed at Radio City Music Hall in New York. During the intermission, this reporter interviewed some audience members for their feedback.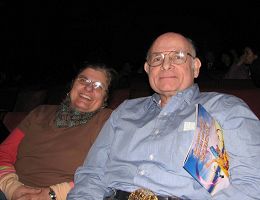 Mike Rosenberg and his wife Joanne thought the show was very entertaining.
Mike Rosenberg worked on Wall Street and is now retired. He and his wife Joanne saw an advertisement about the show on TV and decided to attend. Both liked the show very much. Mr. Rosenberg said the performances were very entertaining. He especially liked the dancing of the drummers, while his wife liked the dancing of the celestial maidens. The dancing, colors, and the white snow image on the backdrop impressed her very much, "This show helped me learn more about Chinese culture. The backdrops were excellent," said Joanne.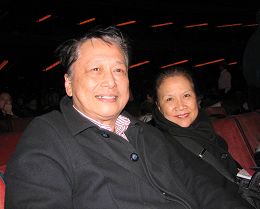 The Buendias praise the show
"For us, it is a wonder. The performances are colorful, well done and splendid. We are very satisfied." said Ely Buendia from Manila, who now works for a company in the United States. He and his wife Estrellita gave the show high marks.
Anthony Mendoza (left) recommended the show to everyone
Student Anthony Mendoza was excited. He came to watch the show with his girlfriend. He said, "I really enjoyed the show. We are not alone in the world. This was a good way to learn about Chinese culture, dancing, and traditions. I loved this show very much."Regarding Chinese culture, Anthony's impressions before watching the show came mostly from martial arts movies. After watching the show, he said, "It is very rich. I think everyone should come to see the show and go to China to take a look."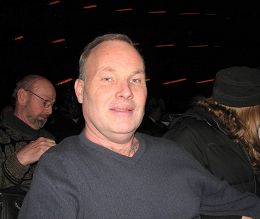 Kevin Fitzdatrizk liked the celestial maiden dances
Kevin Fitzpatrick likes Chinese culture very much. When he is sick, he goes to see doctors of Chinese medicine and acupuncture instead of using western medicine. The lady with him knew a certain amount about the show. She said, "I liked it--it made me think. People need to be open-minded."