New York Audience: an Extravaganza with a Good Message (Photos)
February 02, 2008 | By Su Qing in New York
(Clearwisdom.net) The Divine Performing Arts completed its second New York performance of the Chinese New Year Splendor on the evening of January 31. The audience responded with enthusiastic applause, and after the show, the reporter interviewed Stephen Belida and Gwen Arment in the lobby. They praised the show as an extravaganza with a good message.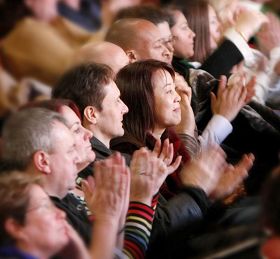 The audience applauds enthusiastically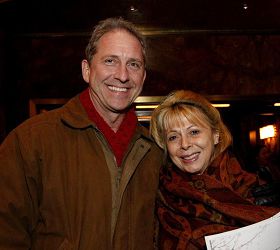 Stephen Belida and Gwen Arment enjoyed the show
Stephen Belida works in the construction industry, and he had high praise for the show, "I thought it was terrific! The lead female dancer was just exquisite. I enjoyed her performance, and I enjoyed everyone's performance--the tradition, the Chinese culture and the message that they had."
When asked about what message he got out of it, Mr. Belida went on to say, "The message that they want to see China change to what it was before, more tolerance, more openness. As Americans, we all love to see that."
Gwen Arment said that she agreed with everything that Stephen said. Ms. Arment is well-versed in the performing arts. She has worked as a dancer, vocal and dance teacher, choreographer and actress. She has performed on Broadway and taken part in national tour performances. Ms. Arment thought that the Divine Performing Arts' performers were highly skilled.
"The singing, music, dancing, orchestra and projections worked together so beautifully to tell us stories, to tell us about Chinese culture, and the freedom they are seeking to express themselves. We take that for granted here, because we are always able to express ourselves, and forget that people around the world do not have the same privilege, and they all have the same talent, ability and dedication, so why can't they have the same freedom that we enjoy?" "So I thought it was beautifully presented, and to see all those people perform together so beautifully, to hear the drums and music of the orchestra, it was just uplifting."
Gwen and Stephen said that they would tell their friends about the show, that it was "something they should see, something they haven't experienced before. It's an extravaganza with a good message."