Chinese Audience Member in New York: "Artistically It Surpasses Everything" (Photo)
(Clearwisdom.net) Ms. Chen Lin has practiced classical Chinese dance and Tai Chi. She immigrated from Taiwan and is now working with an environmental protection organization in New York. After seeing the Splendor on the evening of February 9, she was quite pleased.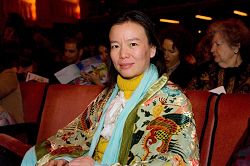 Ms. Chen Lin
"I loved the 'Nymphs of the Sea' because it is very creative: I have never seen a blend of blue fans and light silk to create a water current. I practiced classical Chinese dance before, and I love everything from the Tang Dynasty."
When asked about the backdrop, Ms. Lin said, "The backdrop was beautiful. The water, flowers, and mountains in the backdrop extended the limited stage to an unlimited dimension, creating a feeling of the unity between human and nature. Every year I come to see Divine Performing Arts. Their costumes, music, and choreography have been making constant improvements."
Regarding the 15-show run of the Splendor at Radio City Music Hall, Ms. Lin said that Chinese people should be very proud and that she recommended the show to her friends. "I am very proud--this is a great way to promote Chinese culture.
"I appreciate it from the perspective of art and culture. It surpasses everything... To me, I admire pure beauty and nature, which are beyond the boundaries of nationality, politics, and religion. True art surpass everything."