Korean Dance Teacher: Choreography and Performance Are Top Notch (Photo)
(Clearwisdom.net) On the evening of February 9, Korean dance teacher Mr. Pak watched the Chinese New Year Splendor with his wife and mother. When asked about his evaluation of the show, Mr. Pak said, "Due to my background, I paid close attention to the details. I found that every dance was fantastic! I could see that the choreography was very professional and the performance was excellent. It was a fascinating show."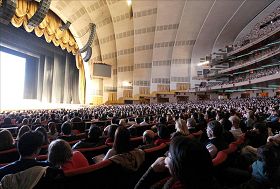 Audience at Radio City Music Hall on February 9
Taking "The Fruits of Goodness" as an example, Mr. Pak said, "The choreography was very sophisticated. From reality to the dream, it achieved a dramatic change in the characters and also presented a clear message. Accompanied by a live orchestra and enhanced by the high-tech backdrop, this piece gave the audience a realistic experience that helped them better understand the dance and the story that was portrayed."
"It [Chinese classical dance] is a perfect art. Using a fan and a pair of long sleeves with a gentle form, it radiates an indescribable innocence and beauty. It's quite unique, a rare and perfect show of traditional culture."