New York State Senator Thanks Divine Performing Arts and Wishes It a Continued Success
(Clearwisdom.net) New Tang Dynasty Television's Chinese New Year Splendor, performed by Divine Performing Arts, will be staged at Radio City Music Hall in New York City on January 30-February 9, 2008. On the occasion of the Chinese New Year Splendor, New York State Senator George Onorato wrote the following letter to thank Divine Performing Arts and wish it continued success.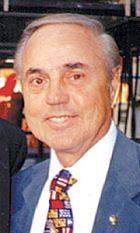 New York State Senator George Onorato
January 14, 2008
Dear Mr. Li:
I wish to send my Chinese New Year greetings to the Chinese communities as they celebrate their most important day of the year.
I applaud the leadership and achievement over the past five years of Divine Performing Arts to entertain and bring the splendor of ancient China to millions. The quality of these productions enriches all our lives and enable us to share in the cultural heritage of China.
My sincere thanks to all the members of Divine Performing Arts and I wish all continued success for many years to come.
Sincerely,
George Onorato
State Senator