Sarasota: "We Have to Be in Touch with Our Soul and Our Spiritual Feelings from Within" (Photo)
December 27, 2008 | By Wang Qinghan in Sarasota, FL
(Clearwisdom.net) The Divine Performing Arts Touring Company staged its first show in Sarasota, FL, on December 22, 2008. John Masefield, chairman of the International Irradiation Association, the IIA, and his wife, Grace Masefield, a TV presenter and fashion designer, shared the same impression of the show, that it presented a message of hope.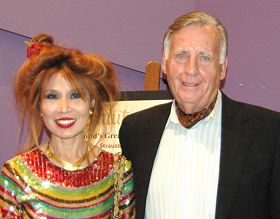 John Masefield and his wife, Grace Masefield, attended the DPA show in Sarasota on December 22
Mr. Masefield said, "It had a spiritual component which engenders hope within people that we can overcome the very many difficulties that we face in the world today, and that the human spirit will endure."
He continued, "The human spirit triumphs in the end--it portrayed that very beautifully, and I think that is very important, I think it is an important message to carry around the world." Mrs. Masefield said that she was impressed by the spirituality portrayed in the show, "We have to be in touch with our soul and our spiritual feelings from within. I think when you see something as beautiful as this, it is so moving that it touches that very core of our heart."
Mrs. Masefield read an introduction about the DPA show in a magazine in Sarasota and was very excited about it. She asked her husband to buy the best tickets for several of their friends. She said many of their relatives and friends came to see the show. She also invited several hundred friends to attend the show. She said that she would invite several hundred more to the second show in Sarasota.
Mrs. Masefield was impressed with the gracefulness, delicacy, strength, resilience, and tenaciousness in the show. She said, "I think in this very hectic world, we get negative news on TV or in newspapers. You recharge with this type of beautiful visual stimulation, the ancient values that have come to this stage. It really inspires one to have more hope."
Her father was a diplomat and from a young age she learned to appreciate cultures of other nations.
Mrs. Masefield commented, "It's visually stunning, absolutely brilliant, and it's so uplifting. The lyrics of the songs were moving and real."
A Chinese audience member: I support Truthfulness-Compassion-Forbearance
Ms. Wang Bin is from Beijing. She said the DPA show was a pleasant surprise, because it was the first time that she truly experienced China's "divinely-inspired" culture. She said, "I think the DPA's portrayal of China's divinely-inspired culture provides a good opportunity for Westerners to understand Chinese culture."
A particularly beautiful aspect of the show for her was that it was a perfect display of Chinese culture, dance, and music. She thought it was pleasingly arranged, and she supported the Truthfulness-Compassion-Forbearance portrayed in the show.
A dance teacher: Beautiful costumes and unique dances
Jen used to be a professional dance teacher. She loves Chinese culture, music, and dance. She thought that the music in the show was particularly unique.
A company manager: Fluid dances are unique and extraordinary
Ms. Kaleve [pronounced], manager of a local company, found the performers' fluid dance movements to be unique and extraordinary. She said the performers' lightness on their feet was like water flowing.