Professional Artists: "Beautiful!" "Marvelous!" (Photos)
December 26, 2008 | By Zheng Hanrong
(Clearwisdom.net) Divine Performing Arts (DPA) performed at the Cincinnati Music Hall on December 23, 2008. Mayor Mark Mallory of Cincinnati proclaimed December 23 as Cincinnati DPA Day.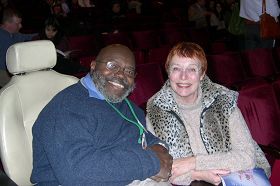 Professional artists Bob and Sheila watch the DPA show in Cincinnati on December 23
Elegant combination of tradition and modern technology
Bob is a professional artist and coordinates a cultural diversity program. He praised the show, "Very beautiful and elegant. It combines many traditions and modern technology elegantly."
The performance aroused Bob's interest in Chinese culture. He said during break he and Sheila looked up some words in the brochure, such as Dafa. He said he had heard about Falun Gong before, and had seen practitioners doing the exercises.
Sheila is a performer and has been to China twice. She said she is especially interested in Tibet, but had never before seen Tibetan dance. She really enjoyed the "Dance of the Snow-Capped Mountain," a traditional Tibetan dance. Like Bob, she also wanted to learn more about Falun Gong. She praised the performance, "Very beautiful. Very traditional performance."
Both of them were touched by the dancing program "The Udumbara's Bloom". Sheila praised it was a very beautiful dance, and introduced her to an aspect of Chinese culture she had not earlier known of.
Pianist: Enjoyed the erhu solo "Hope"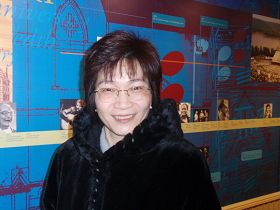 Pianist Ms. Yu
Ms. Yu, a pianist, enjoyed the show in the company of a friend. She said, "I really enjoyed the erhu performance 'Hope'. I was touched by many programs. The costumes were so beautifully designed. I watched with binoculars and could see that each performer had an elegant facial expression; beautiful smiles. Each one was very committed and clearly enjoyed being on stage. They danced very well!"