Florida: Divine Performing Arts Touring Company's Final Performance in Fort Lauderdale Highly Praised by Local Leaders (Photos)
(Clearwisdom.net) On the evening of December 20, 2008, the Divine Performing Arts Touring company presented its final show at the Broward Center for the Performing Arts in Fort Lauderdale, the first stop on its world tour. The curtail fell to rousing applause and cheers from the audience.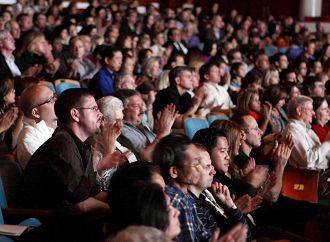 Divine Performing Arts Touring Company's third show in Florida on December 20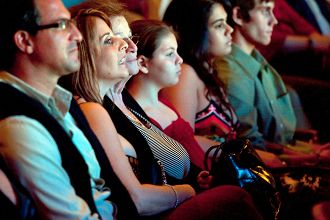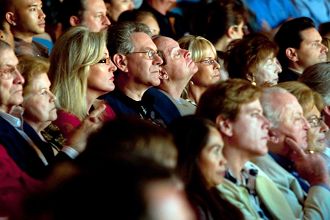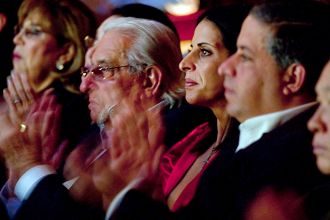 The audience at the DPA show in Ft. Lauderdale on December 20
Congressman Lincoln Diaz-Balart: A very special and extraordinary show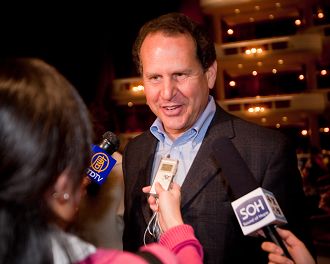 Congressman Lincoln Diaz-Balart at the third DPA show in Florida on December 20
Congressman Lincoln Diaz-Balart sent a special congratulatory letter to the show and also attended the show in person. He commended the show by saying, "It is extraordinary. It's not only esthetically extraordinary but it is also ethically very uplifting." Referring to atheism's destructive role, he said, "The fact is, some things are eternal, and no matter what the difficulties in this life, truth will prevail, and mankind cannot be destroyed. I was very moved by the song that talked about the damage that atheism has caused and is causing. It was very moving. But all of the performances were moving, uplifting. They teach us about the eternal nature of mankind and how we have to be humble. The songs carry the sense that evil will not prevail, and so the message is that the truth ultimately prevails."
Vice-Mayor of Davie: I'm grateful to DPA for sharing the broad and profound culture
Vice-mayor of Davie Marlon Luis attended the DPA show with his wife Cheryl, their daughter Michelle, and his younger sister Lynda Sauls. Mr. Luis had high praise for the show. He said, "The creative genius, absolute beauty and grace, and historical meaning were unexpectedly wonderful."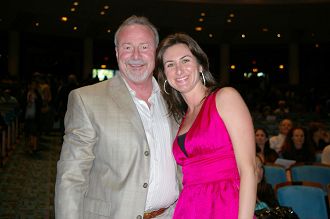 Vice-mayor of Davie Marlon Luis and his daughter, Michelle Luis
Mr. Luis commented on China's rich, diverse culture and said it was really a great joy to see such a show. He added that young people should learn history so that it won't get lost. He said he would like to recommend the show to everybody he knew.
Mayor of Lauderhill: Profound inner meaning surpasses general performances
The mayor of Lauderhill Richard Kaplan attended the final show in Fort Lauderdale. He said to the reporter that it was a great pleasure to see the show, and he felt honored to have the DPA perform in the city.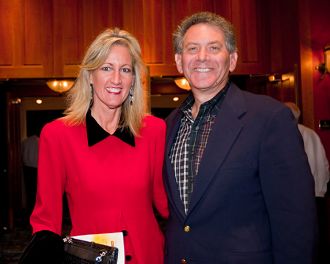 Lauderhill Mayor Richard Kaplan and his wife attended the third show of Divine Performing Arts Touring Company in Florida on December 20
It was the first time that Mayor Kaplan had had an opportunity to appreciate Chinese dance. He said that because it showcased ancient China's great prosperity and beauty, the performance had great significance. He thought it conveyed many messages, and that its profound inner meaning also transcended what a general performance usually conveys.
Mayor Kaplan found the costumes, the music, the dances, and the introductions "fantastic." He said he found the colors and messages very refreshing. "It was really an enjoyable experience." He said he would recommend it to others because he thought they would benefit from seeing it.
Mayor Kaplan emphasized that he was inspired by the stories, lyrics, and content of the dances.
He added that the music was very moving and that it evoked feelings of joy. "It brought you into a different culture--a unique experience."
Divine Performing Arts Touring Company will now present two shows in Sarasota, the second stop on its world tour, on December 22 and 23, 2008.