The Divine Performing Arts Show Is Warmly Welcomed in Philadelphia (Photos)
December 22, 2008 | By Minghui/Clearwisdom reporter Feng Daosheng
(Clearwisdom.net) On December 20, the Divine Performing Arts (DPA) held its third show in Philadelphia at the Merriam Theater. The audience was very appreciative.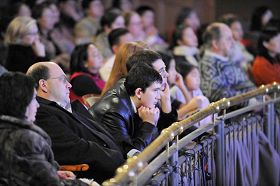 The audience enjoying the third DPA show in Philadelphia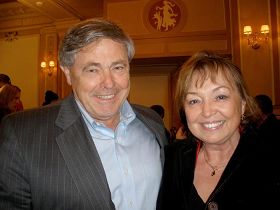 Mr. Jerry Joank and his wife
Mr. Jerry Joank, a molecular biologist, came to the show with his wife. Mr. Joank is from Czechoslovakia. He escaped to the US to avoid living under communist party rule in his country. He expressed that he understood Falun Gong practitioners' situation very well and the principle of forbearance is very important. He also understands that people in China cannot see such programs and the Divine Performing Arts is trying to protect the traditional Chinese culture, and it is also important to let the people in China see the show through proper channels.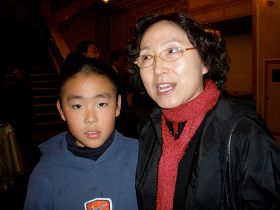 Ms. Guo and her son
Ms. Guo is a professional dancer. She came to the DPA show last year. She said, "The show is really high level. Every dance was excellent. The background design was also amazing. I majored in music, so I know how hard it is to combine traditional Chinese instruments with Western ones. I am proud of those musicians and the director of DPA. They must have an excellent team of composers and stage designers. They excel in every aspect."
Ms. Guo noted, "I enjoyed Guan Guimin and Bai Xue's singing last year. I didn't see them today, but I enjoyed the other singers, especially Huang Biru."
She was pleased to learn that three DPA companies will tour in 80 cities all over the world this year. "They will promote traditional Chinese culture to the whole world! I will be coming to the show again tomorrow."
The DPA New York Company will hold one more show in Philadelphia on December 21 and then will travel to Cincinnati on December 23.