Epoch Times: Divine Performing Arts Off to Rousing Start for 2009 Season (Photos)
Epoch Times
December 19, 2008
PHILADELPHIA--Divine Performing Arts kicked off its 2009 season world tour in three cities across the United States on December 19th--Ft. Lauderdale in Florida, Atlanta in Georgia and Philadelphia in Pennsylvania.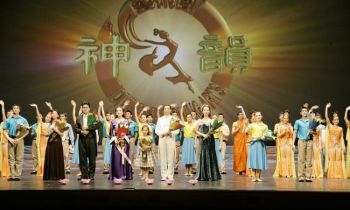 The curtain call in Atlanta on Dec. 19. (The Epoch Times)
The Divine Performing Arts company has already redefined traditional Chinese culture through its performances around the world. Its 2009 tour is the company's third international tour and is expected to be its largest yet, spanning 80 cities around the world. Last year, the company toured around 60 cities across North America, Europe, Asia and Australasia. An estimated 600,000 live audience watched the show.
It was obvious from the first day's performances that Divine Performing Arts is set to repeat its past success this year.
For instance, at Philadelphia, Mr. McClosky, who works at City Hall, has seen the show five times in three years. "I've been attending the performances for three years, although this is the fifth performance that I've attended, because I've also been going to the shows in New York City."
Mr. McClosky had no favorite piece - the entire show was wonderful: "That is a difficult choice to make. Every single ... interpretation that we see on the stage, every dance, every song that we hear is so fantastic. I can never choose a favorite."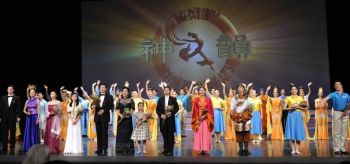 Divine Performing Arts takes a curtain call at the Philadelphia performance on Friday, December 19. (Dai Bing/Epoch Times)
In Atlanta, Mayor Shirley Franklin, wrote in her letter to the company that the Divine Performing Arts "has influenced and empowered audiences from around the world through artistic creativity, song and dance."
This weekend will see the three companies that comprise the Divine Performing Arts perform two more shows at Ft. Lauderdale and Atlanta on Saturday, and three more shows at Philadelphia on Saturday and Sunday.
After that, the companies will go to San Diego and other cities across North America and the rest of the world.
On its return visit this year, DPA premieres over a dozen new dances and songs, state-of-the-art, animated digital backdrops and a live orchestra.
For information please visit divineperformingarts.org.
http://en.epochtimes.com/n2/arts-entertainment/dpa-rousing-start-2009-season-8797.html