Koreans Look Forward to Divine Performing Arts Tour (Photos)
(Clearwisdom.net) The Divine Performing Arts (DPA) staged 215 shows in over 60 cities on four continents in 2008. DPA companies will put on three shows in Philadelphia, Atlanta, and Fort Lauderdale, Florida, on December 19, 2008, which will begin this season's world tour. In Taiwan, nearly twenty thousand tickets were sold in the first five days after ticket-selling began on December 1, 2008, for the 2009 performances.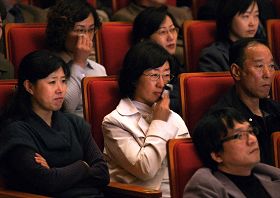 Artpia Theater in Seseong-gu, Daegu City, Korea: Some audience members were moved to tears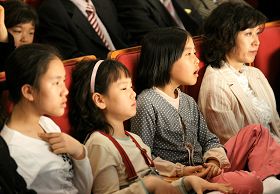 Artpia Theater: Young audience members were mesmerized by the performance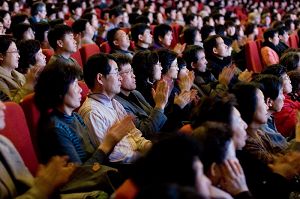 The second DPA show in Seoul: The audience was captivated in the show
Korea, another country in Asia, is also looking forward to the arrival of the Divine Performing Arts. According to a media report, well-known South Korean bass vocalist Xin Guikun attended the DPA's Chinese Spectacular show on February 24, 2008, and said, "The show made me feel I had left the secular world for a moment. I don't know if I will have another opportunity to see such an outstanding performance in this lifetime."
In March 2008, after the advertisement for the DPA shows was put up at the Artpia Theater in Seseong-gu, Daegu City, tickets for the five shows were sold out in less than a week. This was a miracle in the history of ticket selling for art performances in Korea. People from all walks of life in Korea were impressed by previous DPA shows. Some of their impressions:
National Assembly member Sang-soo Ahn (of the new ruling Party) attended the DPA show and said that it was so wonderful that he did not want to take his eyes away from the stage for one second. He said, "The show gave people ample space for imagination and the choreography had great rhythm. It was such a splendor, and it gave you a feeling of compassion from divine beings."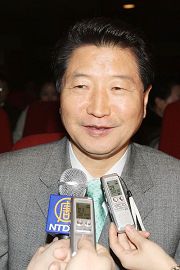 National Assembly member Sang-soo Ahn enjoyed the show
Mr. Ahn said that he was most impressed by the Mongolian Bowl Dance. "The dancers had unbelievable balance--not a bowl was dropped as they were dancing so vigorously." He thought the performance showcased traditional Chinese culture, histor,y and moral values.
Seoul Anti-Corruption Committee representative Rong Yi (phonetic) had high praise for the Chinese Spectacular. He emphasized that the show contained deep philosophical principles. He said, "The show featured a blue sky, the moon, and nature, which naturally takes the audience into nature."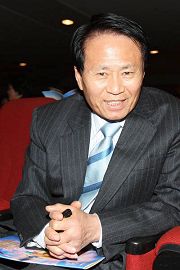 Human rights activist Rong Yi was touched by the number that depicted the perseverance of Falun Gong practitioners in the face of brutal persecution
"I now have a brand new understanding of Chinese culture. The beautiful costumes and glorious dancing and the stunning backdrops in particular were so informative. I feel very lucky to have had this opportunity to see such a great show," Yi added. "The number which depicted the perseverance of Falun Gong practitioners was very touching. I respect their faithful hearts."
Dr. Ahn Cheon, President of the Seoul National University of Education, also saw the Spectacular. He indicated that he felt the great influence and power of the show. "From a different perspective, I believe they [Divine Performing Arts] have been trying to show people genuine traditional Chinese culture. This show has far-reaching impact and significance.
It will take a lot of effort and time to restore the lost traditional Chinese culture. However, overall, Divine Performing Arts is coping with tremendous pressure from the current Chinese government and works so hard to strive forward. It has presented a world-class show. This, in itself, is a historic milestone." Dr. Ahn added, "Fundamentally, no matter where one lives, every Chinese person needs to try to restore the real Chinese culture."
Korean traditional costume expert Shu-nu Pak (phonetic) attended two DPA shows. She said she was mesmerized by the beautiful traditional Chinese costumes, which displayed an ethereal beauty.
Korean traditional costume expert Shu-nu Pak applauded the DPA show enthusiastically
The backdrops were the most impressive to her. She said that the background screen skillfully changed scenes with the change of stage atmosphere, forming a unified whole with the figures portrayed on the stage.