New Zealand: Introducing Falun Dafa on Declaration of Independence Day at Waitangi (Photos)
November 07, 2008 | By a Falun Dafa practitioner in New Zealand
(Clearwisdom.net) October 8 is New Zealand's Declaration of Independence Day, an important day for the Maori people. Chiefs and families from all over New Zealand celebrated their holiday at Waitangi. The Falun Gong group was invited to take part in the celebration in 2008.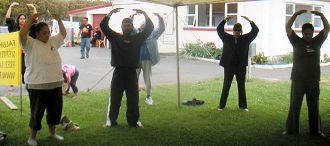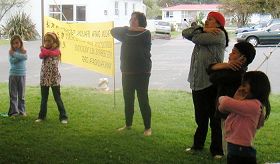 The Whanaus, a Maori family, learn to practice Falun Gong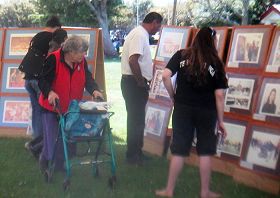 People look at the "Journey of Fa-rectification" photo exhibit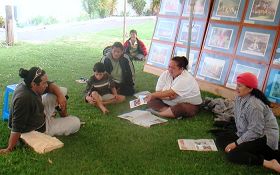 Willy (left) shared his experience of learning Falun Gong
Kereru feels she has a mission to spread Falun Gong
A number of the Maori people have felt the compassion of Falun Dafa and have a deep faith in Dafa in New Zealand. They believe that Falun Dafa can help them reach higher spiritual realms and even believe that Falun Dafa is the hope for saving their people. They find that their traditions, values, principles, and ancestors' wisdom to be consistent with the universal principles of Truthfulness-Compassion-Forbearance. During the activity, many people surrounded and looked carefully at the photo exhibit. They also learned to practice the five sets of the Falun Gong exercises.
Willy shared his experience of studying the Fa. He had learned different kinds of martial arts and qigong practices in the past. He was aware of and could see different shadows enter his body and even control his emotions. Not until he got in touch with Falun Gong and listened to Master Li Hongzhi's nine-day video classes did he realize that he should cultivate his main consciousness. Dafa has also enabled him to change all kinds of negative thoughts and bad habits, and now he no longer takes drug or drinks alcohol.
Kereru, an independent Maori candidate for the 2008 General Election, said that, before she came to Waitangi, a voice in her head told her that she would come across some new and supernormal things, which would raise her level. After she learned the five sets of Falun Gong exercises, she heard that voice say, "You are receiving a training." She realizes that she has a mission to spread what she has leaned to other Maori people.
The following are some of the messages left in the visitor's book that Falun Dafa practitioners prepared:
Marama left a message on the first day: "I want to learn Falun Gong."
She left another message after learning to practice Falun Gong the following day: "Signs show that the older people's treasure comes back."
Mary wrote: "You bless us with an extremely great theory."
Barney is a Maori chief. He said, "Our Maori people, particularly young people, should learn Falun Gong if they want to overcome drugs, alcohol or other unhealthy pastimes."