36-Year-Old Ms. Fan Yanli Dies after Being Detained in Henan Province (Photo)
(Clearwisdom.net) Ms. Fan Yanli, 36, lived in Nanyang City, Henan Province. On April 24, 2008, she was arrested along with more than a dozen other Falun Gong practitioners in one of their homes. The police ransacked her home, and she was detained in the Nanyang City First Detention Center for more than six months. Due to the hard labor, malnutrition, lack of sleep, and constant threats, she became very weak and often vomited.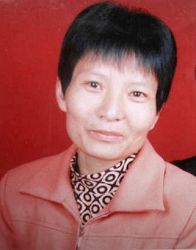 Ms. Fan Yanli
On October 9, 2008, at around 10:00 a.m., Wolong District Court put Ms. Fan Yanli and ten other practitioners on trial. She passed out in the courtroom and was taken back to the detention center. After extorting more than 10,000 yuan from her family, she was released on October 11, 2008. Only 16 days after her release, she died on October 27, 2008, at 4:00 p.m.
According to incomplete statistics, more than 100 practitioners in Nanyang City were sent to forced labor camps, several dozen practitioners were sentenced to prison, and there have been 19 confirmed deaths in the past nine years of persecution.
Those involved in Ms. Fan's case:
Nanyang City Police Department officers Zhang Yongyi, Huang Fengshuo, Guo Xu, and Shang Mingming
Wang Jianmin, Nanyang City deputy mayor and CCP Political and Judiciary Committee secretary: 86-377-63892929 (Office), 86-377-63898698 (Home), 86-13937788888 (Cell)
Wang Yujian, Wolong District CCP Political Judiciary Committee secretary: 86-377-63216555 (Office), 86-13803770186 and 86-13323681866 (Cells)
Guo Xinmin, Wolong District 610 Office deputy chair: 86-377-63185835 (Home)
Zhang Yuzhou, Nanyang City 610 Office chair, "Anti-Falun Gong" Division chief: 86-13503773366 (Cell) (Zhang actively participated in the persecution his team was recognized by the Public Safety Ministry as a "Nationwide Advanced Group.")
Li Xinhua, deputy director of Nanyang City First Detention Center: 86-13087033479 (Cell)
Du Feng, Wolong District Police Department director: 86-13803879099 (Cell)
Guo Wanfeng, Wolong District Domestic Security Division chief: 86-13037613696 (Cell) 86-377-63510369 (Office) (Guo actively participated in the persecution.)