Taiwan: Artworks Touch the Soul (Photos)
November 20, 2008 | By Lin Chiaorong
(Clearwisdom.net) The "Truthfulness-Compassion-Forbearance" International Art Exhibition is currently being held at Shilin Exhibition Hall in Taipei. Many people have come to the exhibition. Ms. Cheng Yichen, the principal of a kindergarten, said that the sincere feelings of the artists touched her deeply.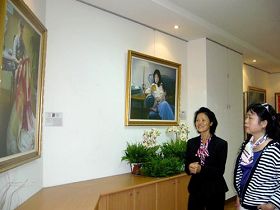 Ms. Cheng Yichen (right) praises the artworks
Viewing the artworks
Ms. Cheng has been working at the kindergartens for 30 years. She likes children and appreciates the purity of children. She said that every artwork in the exhibition is pure. For example, the artwork entitled "Orphan's Tear" by Dong Xiqiang clearly shows the feelings of a little girl whose parents were tortured to death during the persecution of Falun Gong. "The Pure and Compassionate Call" also expresses a young Falun Gong practitioner's wish to end the persecution. Ms. Cheng said, "I am deeply touched by those vivid paintings. The artists are great,and they perfectly expressed their hearts."
"How can they be so cruel?" said Mrs. Cheng, shocked by the brutality of the persecution of Falun Gong in China. The true stories behind the artworks saddened her. She feels that we must clarify the truth and let more people know about what is taking place in China. "Truthfulness is powerful. It touches people and beats the evil," Ms. Cheng said.