Taiwan: Uncompromising Courage of Falun Gong Practitioners Shown at the International Truthfulness-Compassion-Forbearance Art Exhibition in Taipei (Photo)
November 14, 2008 | By Lin Chiao-rong
(Clearwisdom.net) The international Truthfulness-Compassion-Forbearance Art Exhibition is currently being held in Taipei, Taiwan. The exhibition includes paintings by Falun Gong practitioners, who share the grace of Truthfulness-Compassion-Forbearance, and express their uncompromising courage in facing the nine-year-long persecution in China. Teacher Sun Hsi of Taipei Chung Cheng High School experimental class said that she was shocked by the courage shown in the paintings, and she hopes that the students will learn from the spirit of the practitioners.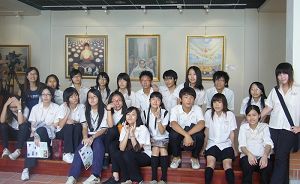 Group photo of teacher Sun Hsi (left on second row) of Taipei Chung Cheng High School experimental class and students in the class in front of the international art exhibition
Taipei Chung Cheng High School experimental class won the Best Student Study Award in 1997 Best School Selection in Taipei. It is the first choice for many students who wish to enter art classes in high school. The students in the class have excellent achievement records. Teacher Sun Hsi said, "When I got the flyer about the exhibition, I found several paintings to be very touching, so I decided to bring all the students to view the exhibition."
She continued, "I encourage students to view the paintings to learn righteous skills in describing practical things and see how the international artists present spiritual-level things."
"Besides beauty, paintings must be touching and moving people's hearts. The children's look in the paintings Pure Call by Chen Xiaoping and Why by Wang Weixing deliver a message that touches my heart. I can feel the artists' expressions of the innocent children's pain due to the Chinese Communist Party's (CCP) persecution of Falun Gong. I encourage my students to present the subject's emotions clearly and wholly."
Teacher Sun pointed out, "Some paintings described bloody incidents, but real. I know that CCP's persecution of Falun Gong is cruel. The artists present the uncompromising courage in the paintings. I admire it and am touched. I hope the students learn it from the paintings."